A Man of Great Wisdom (The Late Judge Norberto Cajucom) – From the Hearts and Minds of His Grandchildren: In Memoriam
A man of great wisdom who led an inspiring and remarkable life" – This is how "Joan" CD, one of his grand-daughters, beautifully described the late Judge Norberto Cajucom fondly called by his grandchildren as "Lolo Berting" or simply "Lolo", (although some of them call him "Tatay" and "GrandPa" too). This was confirmed by the other grandchildren who believe their Lolo was such a kind and caring man. Oh, this is such a great and a sweet way of labeling a grandfather!
(For purposes of this blog, let's use "Lolo Berting" for reference. For MUTC's non-Filipino readers on the web, "Lolo" (or "Lola") is a form of endearment to address a grandfather or grandmother, respectively, or to an elderly man/woman in the Philippines).
Lolo Berting was one of the 9 children of a humble family of the late Juan and Olympia Cajucom of Bongabon, Nueva Ecija, one of the rice granaries in the Philippines, which is about 30 minutes ride from Cabanatuan City. Bongabon used to be the 1st capital of Nueva Ecija because of its beauty, vibrancy and the many opportunities that it could offer for the Novo Ecijanos. Apart from rice plantations, Bongabon is considered as the "Onion Bowl of the Philippines" since most (65%) of onion production of the country (and even the onion requirements in South East Asia) came from Bongabon. This is the original home of Lolo Berting, his birthplace where he grew up and molded by his parents to be a man with honor and integrity.
Hailing from a large family whose main livelihood was sourced from agricultural lands and farm plantations, it was not easy for Lolo Berting to pursue higher studies, but it did not prevent him from achieving his dreams. Thus, he exerted his best effort usefully, and decided to be a working student. Lolo Berting left his hometown and moved to the city to seek greener pastures. His hard work, determination and perseverance made him successful in the end.
As a student, he had consistently performed outstandingly during his academic years, both in Elementary and High School, as Salutatorian in class. He graduated Cum Laude during his college years and post graduate studies, with a degree in Bachelor of Laws. He was also actively involved in both academic and extra-curricular activities, as Editor-in-Chief of the school organ and was awarded as the best orator and debater in their school (and that's where he first met his equally brilliant (also a Cum-Laude) lovely wife, Lola Gloria!). He passed the Bar Examinations with a rating of 89%, garnering a grade of 99% in Political Law. Lolo Berting became a Lawyer and practiced his legal profession with vigor and enthusiasm through the years.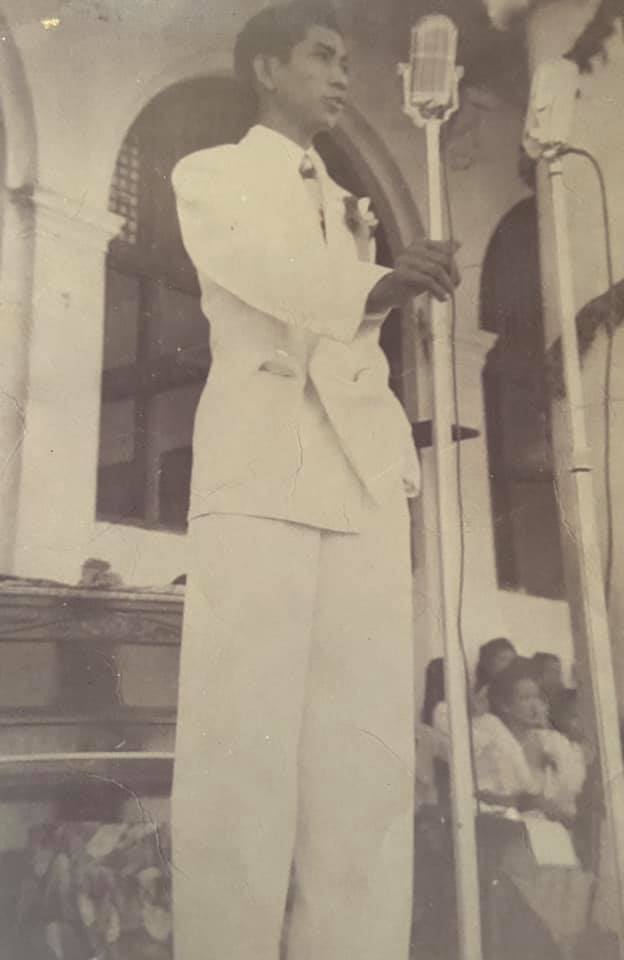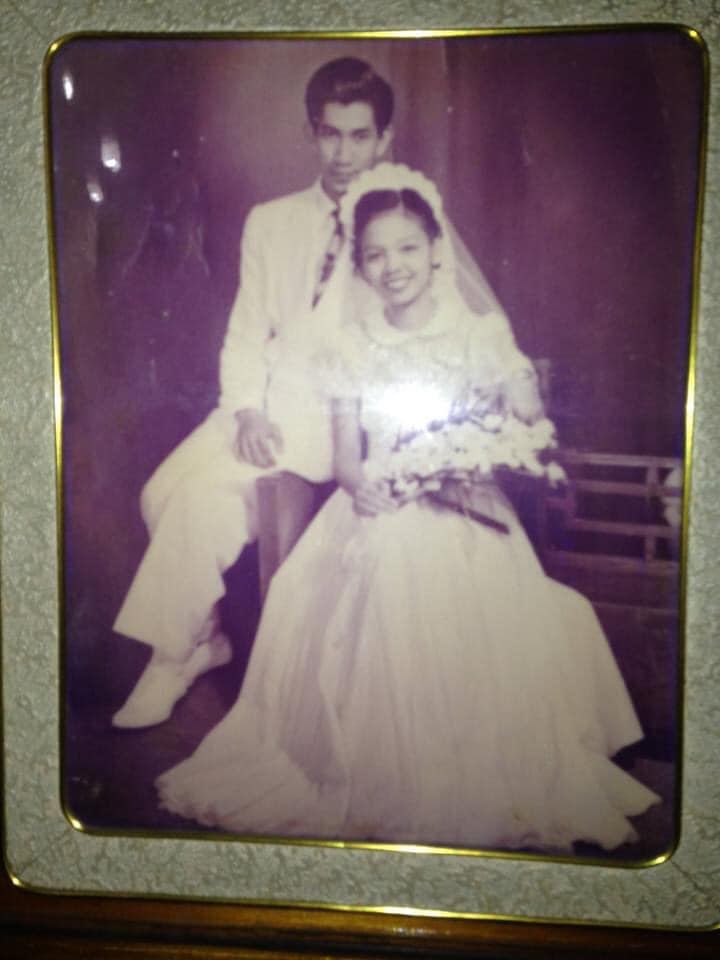 As a trial lawyer, he had this penchant for helping the disadvantaged, protecting the rights of people, particularly those who were unable to defend themselves from the cruelty and suppression of people superior to them. Focusing on being a human rights lawyer did not make him wealthy though. There were times, clients who couldn't afford to tap their own lawyers would go to Lolo Berting to represent them, they knew that they could trust him and would be able to win their case in court. He couldn't afford to shy away from said clients. In return, these people would give something in kind (their farm produce, etc.) as an expression of gratitude to him. It was a tough ride during this period of his life being the head of a large family, but still he was contented and happy. To stay financially stable, he obtained an extra job on the side as a Law Professor in one of the universities in Cabanatuan City (now called Araullo University-Phinma), juggling his time as a lawyer, a professor, a husband, a father to his own kids and also a son and a brother to his parents and siblings. Even if he already had a family of his own to attend to, he had not forgotten his own family in Bongabon, in fact, he supported some of his younger brothers pursue their studies.
As a professor, he treated his students with respect and kindness but at the same time strict with those who came to class unprepared. One former student of his commented that he was oftentimes called by him to recite/speak in front of the class, one way of training future lawyers to be confident in themselves.
Although Lolo Berting had already reached one of his dreams, he did not rest on these laurels, but rather, pursued higher goals in life. During this time, he was already starting to build a name of his own in their place in terms of his career trajectory, and was recognized by his compañeros y compañeras (how Filipino lawyers call among peers) in the legal profession. He even became a Councilor of the city for a time but did not pursue this tack in the political arena. He even became a part-time columnist in one of the local newspapers in their place.
A golden and a much-awaited opportunity knocked on his door, which he readily welcomed, and subsequently he was appointed as one of the Judges of the Province, earning him an honorable prefix title on his name. As a Judge and being a human rights advocate at the same time, Lolo Berting was kind and considerate yet fair-minded and equitable in his decisions using his brilliant legal thinking mind appropriately, making the legal teams from both sides of the fence feel good about the case findings and rulings. (Insert: I could only surmise that just like my husband, he could be the type who is meticulous and cautious in the use of words, thoughtfully crafting the findings and conclusions for the dispositive portion of his decisions). Lolo Berting sat on his "bench" with compassion, dedication and wisdom, working tirelessly to be excellent in his judicial craft. He was loved by people whom he had helped, visiting him once in a while when he was already in his senior years. One commenter on facebook stated: Judge Cajucom was one of the finest judges during those days. Farewell great Counselor!
Lolo Berting may not be known in the higher echelons of human rights community, but he was a person who advocated what real human right is all about, which he applied during the course of his profession. He lived his life to the fullest, being in this world for almost 93 years was a blessing (he was supposedly 93 yrs. old this June, and he would be grateful to God for this, for sure). Even if he was no longer in perfect health, he was still practicing law for some cases which he couldn't say no. He loved the law, he loved his profession, and he loved to be with people. (Insert: I had some moments with Tatay Judge -it's good to call him that. One time during one of our visits to them, while we were conversing after a delish lunch, Tay handed me a book, Philippine Constitution, and requested me to read certain pages of it in front of him. He was critically listening as I was reading it, little did I know that at that time he was working on a case on a private property being expropriated by Government for public use). Unbelievably, he was already in his 80s at that time, but he still had that passion, the care and the love for the law – till the very end.
As a father to his own children, he and Nanay Gloria were glad to have successful 11 children (both personal and professional lives) who were able to complete their studies and land in decent jobs. He loved seeing them, anxiously and patiently waiting for their visits and most of all he loved seeing his 29 grandchildren growing up.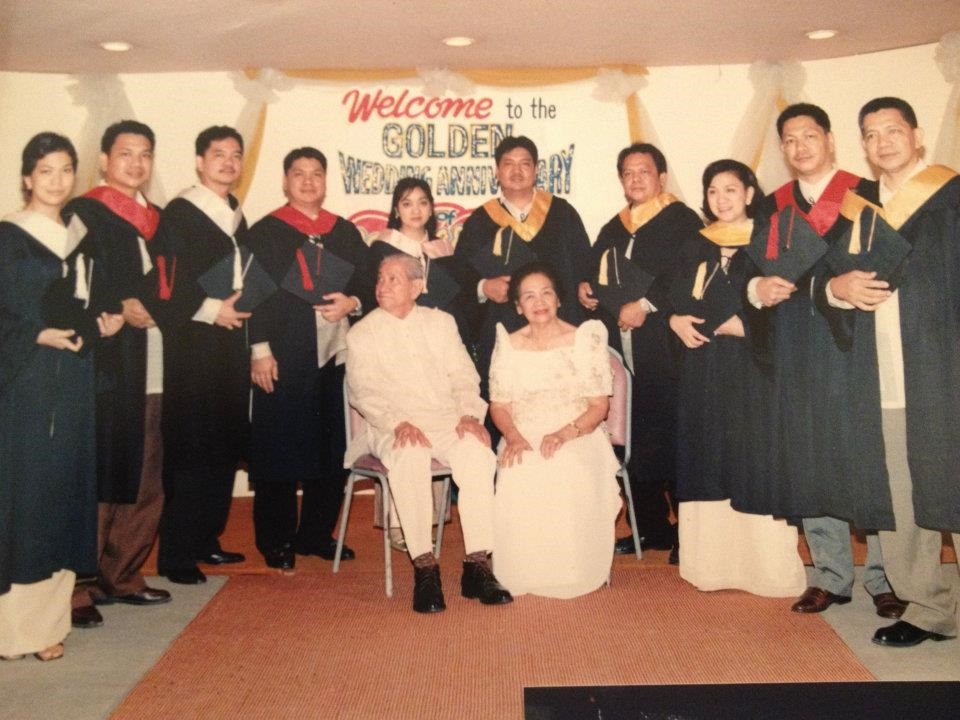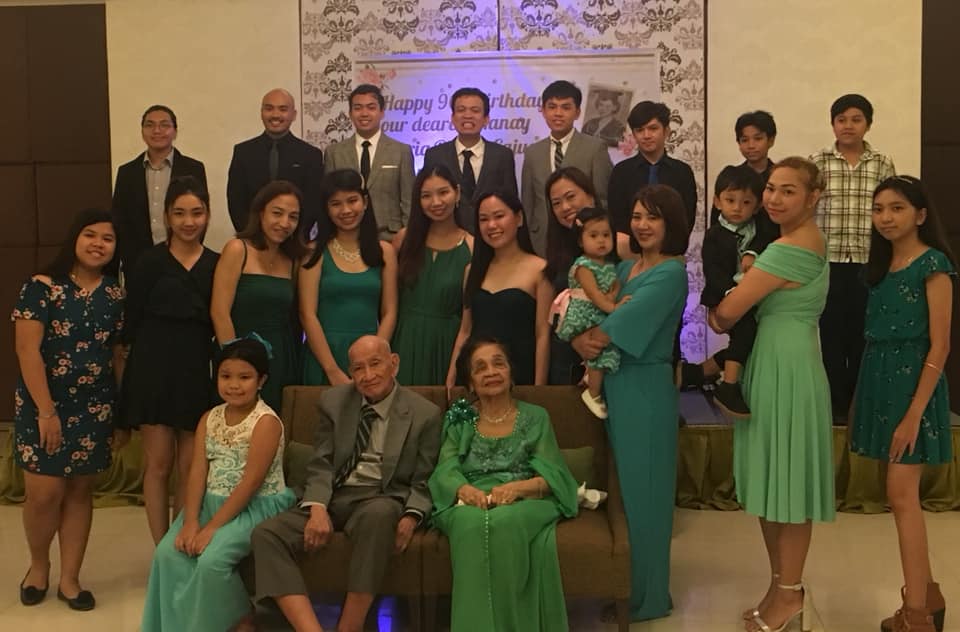 Lolo Berting may not be a perfect person (no one in this world is, but we can be perfect if we want to – God wants us to be one – or we can strive to be better persons for a start- just a reminder), he had some flaws too. But to one of his daughters, "Lenore", his father made her who she is and what she has now, successful and happy with a very supportive family. Absolutely, Lolo Berting contributed much to his children's own success stories – that's his legacy left behind to his children. His belief in the value of quality education, professional integrity and most of all his great wisdom will always be remembered in the hearts and minds not only to his children but to his grandchildren as well.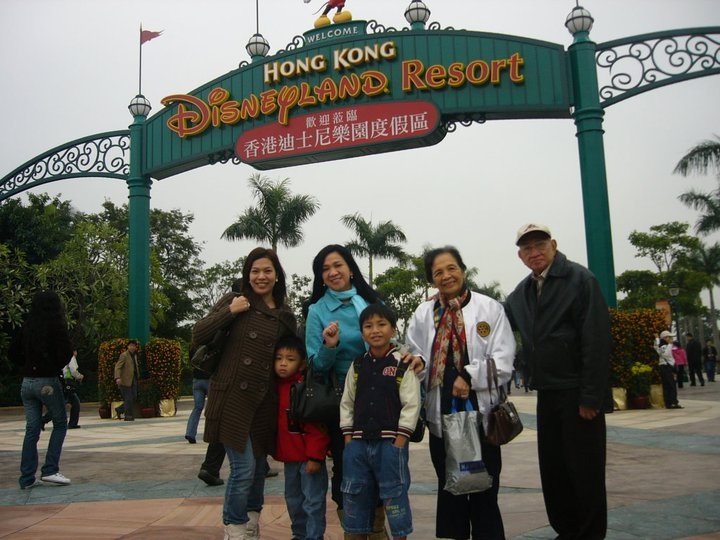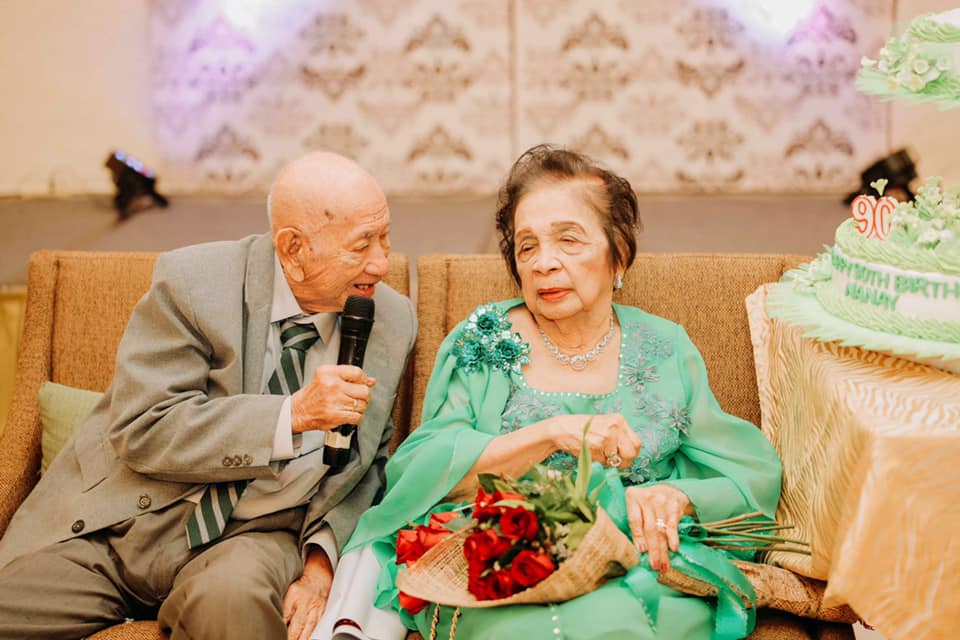 Allysa, Cameron, and Milko who have lived with their Lolo Berting during his senior and ailing years shared some of their fond moments with him:
Allysa – I don't have much moments with Lolo during those days when he was still physically fit and strong since I wasn't even born then. But I remember when I was 4 years old (prep-years), I was performing a declamation piece in school, I was surprised to see him among the audience, watching my performance and applauding for me. That was something! My most recent memory about him, he usually asked me about my Dad who is based in NYC, how he's doing and all – and the funny part of it, he would joke about telling my Dad to send some of his dollars to him! Heheh (Alyssa is a consistent top honor student in their school).
Cameron – What I always remember about Lolo is that he was a very generous and caring person. During our younger years, Lolo and Lola would always have something for me and my sister. The last time I saw Lolo was during the birthday of Lola. When we visited their place, we immediately went to the room of Lola, and Lolo was also there. We were served with food and while we were eating, Lolo came to us and asked us how we're doing and the many things he wanted to know about us. That's how I realized how he truly cared for us. Even though he was having a hard time to speak, he still managed to say a lot of things just to make sure we're okay. Even though we have spent only a small amount of time together, I know that Lolo was a wonderful human being. I am so blessed to have him as my Lolo. One funny trivia about Lolo: Whenever Lolo saw my sister Lian, he would tease her to change her name to "Liberty" because she was born on Independence Day! hahah (Cameron is now in College and is a University Scholar in their school).
Milko – When I was still young (4 or 5 years old perhaps), I used to imitate the massage therapist who went to the house to reflex certain areas on Lolo's legs and toes. When the therapist was no longer around, I repeated what he did to Tatay massaging his legs, just like a professional masseur! Lolo appreciated what I did and I thought I was good at it! There was a time, he would also ask me on a daily basis: "Mayabang ka ba"? (Are you a boastful (or arrogant) person"?) Sometimes, I would give him a positive and there are times a negative response (although there were times that I simply nodded my head for Yes, and shook my head for No) because in reality at that time, I didn't know what the term means? Tatay and Nanay were amused at my innocence. They would laugh at it. But I was happy at that time, I thought I answered them correctly even though my answers for the same question vary everyday! Lol. (Milko is in college now doing very good in school while accompanying his Lolo and Lola in their home since childhood days).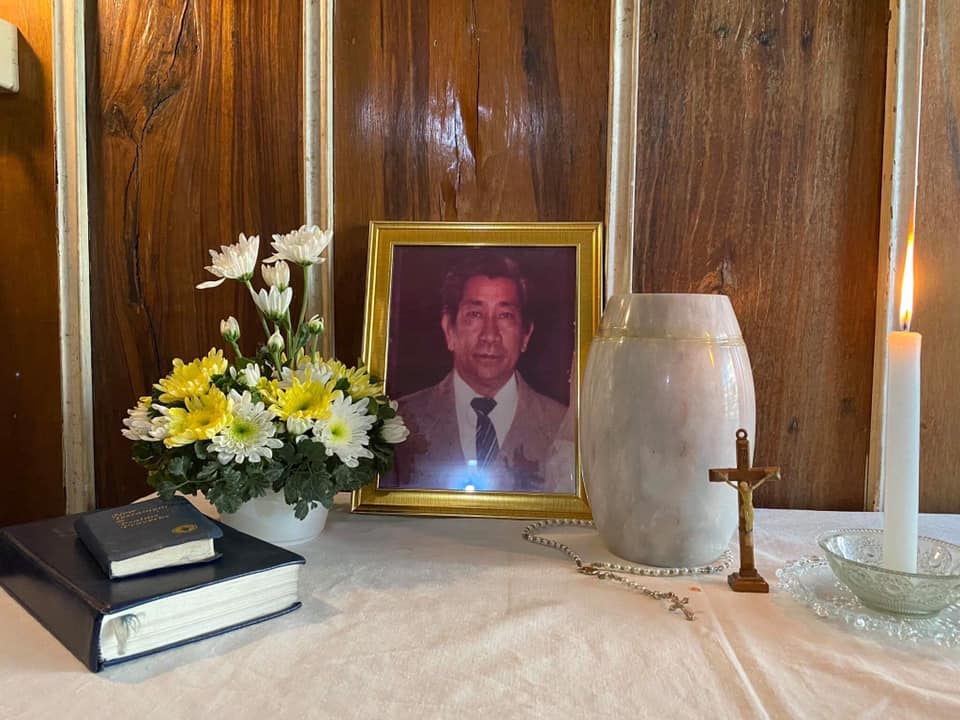 For Joan, Lolo Berting, being a Judge, was granted by God the gift of wisdom for him "to decide between right and wrong". And this wisdom led him to an inspiring and remarkable life. "It's surreal to think that Lolo Berting will no longer be here. Our Christmas reunions wouldn't feel complete without the head of the clan. He may not be physically present anymore but one thing is definite: Lolo Berting's legacy of love & blessings will live on in the lives he has touched and his many descendants."
Lolo Berting will definitely be dearly missed by Nanay Gloria, his loving wife, his children, grandchildren and family.
Eternal rest grant unto the soul of Lolo Berting (Tatay), O Lord. And let perpetual light shine upon him. May the angels and saints in heaven welcome him into God's Kingdom. May he rest in peace. Amen.