Friends In Need…. : Tips and Thoughts
Are friends in deed, indeed! Some would say, you're a "real" friend when you're around in good and most particularly in bad times. That's why we are truly blessed when we are endowed with friends who are there when we needed them the most, minus vested interests. The lack of material things, monetary and non-monetary, is definitely not a hindrance to comfort a friend in need. Our presence and some other form of assistance are more than enough to express our love and concern for a friend who's experiencing life's uncertainties and problems.
The tropical storm "Sendong" or "Washi" which hit certain major cities (Cagayan de Oro and Iligan) in the southern part of the Philippines last December turned out to be shocking, painful and tragic to affected residents. The said storm which resulted in heavy rainfall and flash floods took the people by surprise while they were sleeping, some of them unfortunately were unable to escape from the rushing waters and mud accompanied by large logs and other debris coming from the nearby river and mountain. Unfortunately, for some of them, it was like a thief in the middle of the night ransacking their lives and properties.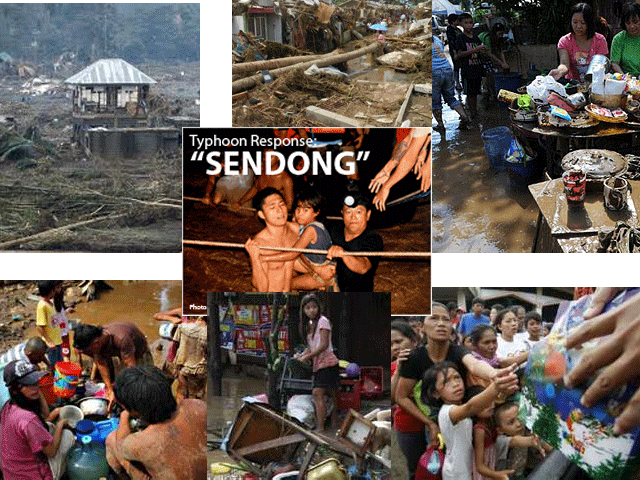 The World Bank data of the calamity aftermath revealed that about 1,260 lives perished and 730,000 families affected with 4,620 people injured. The said disaster ravaged the two cities, washing away some houses, personal and business related properties, and even worse government utilities such as water and power have been severely damaged. As such, there is currently an urgent need to provide assistance concerning temporary shelters and potable drinking water. People need clothing and bedding materials, towels, food, medicines, and other basic household items such as cooking utensils and the like.

Two of our colleagues, who have migrated to NYC are presently sacrificing themselves to be away from home to earn a living. They have family members and relatives who are still based in the said cities and were directly affected by the said deluge. Fortunately, their children and siblings were able to flee the areas before the floods rushed in. However, the family victims failed to bring anything with them, not a single belonging, it was a matter of life and death! Their houses were badly destroyed and until now mud's all over the places, with no water to be used to clean up the mess.

Immediately a day or so after the deluge and even without our new friends asking for help, the initiative of gathering donations (cash and in kind) from generous individuals, and asking for used clothing and other items, primarily for the respective families of our colleagues was taken. Fortunately, the local community leadership was supportive in this endeavor. Other groups followed suit to solicit funds with the end view of remitting the donation proceeds and sending various basic items either to a reputable institution or directly to the affected family members. In our community's case, the donated items were remitted directly to the affected family themselves.

As much as possible, we don't want to encounter any turbulence in life. But, things like this happen., they're beyond our control. We just have to have the willingness to help, if we have the time to spare, especially to colleagues and friends. This is also an opportunity for some of us to give back and lend a hand to friends who have been there to share their talents and treasures as well.

Shown below are some of the items which have been donated to the said family victims. Special thanks to the Women of Hope of the St. Mary Gates of Heaven who have donated two large bags of brand new clothing materials (sleep wears, etc.) for young and adults and to the local community leaders and members of the Holy Child Jesus Filipino Apostolate who have always been supportive. Thank you to Fr. Richard Magararu who have been instrumental in this undertaking.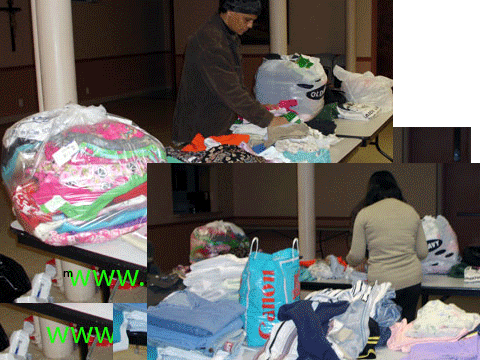 (sorting and packing the donated items were done by generous volunteers, Felix and Aline)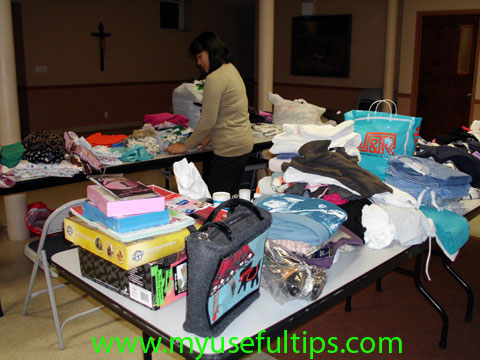 p.s.

Almost a month after the said calamity, the residents of the said cities are still in dire need of help. Donations from interested parties are greatly welcomed and appreciated. For cash donations, you may send it directly to the Filipino Diocesan Apostolate of the Diocese of Brooklyn (c/o Fr. Patrick Longalong, FDA Coordinator), proceeds of which will be remitted to the Bishop's local diocese in Iligan and Cagayan de Oro cities. On the other hand, the Philippine Consulate, through the Consul General, Ambassador Mario de Leon's office, is also accepting donations in kind (beddings, towels, cooking utensils, etc.). If you have extra and unused belongings at home, business import and export overruns, old inventory stocked up in warehouses, your kind heart and helping hand would be greatly appreciated. The said usable household items can be dropped off at the office of the Philippine Consulate located at 556, Fifth Avenue, NYC.
For my useful tips readers and visitors not based in NYC and who are well-off to share, please coordinate with any international or local credible charitable organizations in your area, if and when there are plans to make donations or please contact admin of this blog site for some assistance and directions.
This is merely to shout out to the whole world that there are some people in need in this particular part of the globe. A BIG THANKS!
The following hit song about friendship can actually perk up a day's friend. A portion of the lyrics goes like this: " keep smilin', keep shinin', knowin' you can always count on me for sure, that's what friends are for" The video (courtesy of you tube) shown below maybe dated but very remarkable!