Lent is a time for praying, a time for sharing, a time for helping, a time of sacrificing, a time of asking God's mercy and pardon, a time of forgiving people, and most of all, a time to prepare for Easter.
Grabbing an idea from the school's lenten calendar, I asked the kids one day if they happen to know someone going through a hard time and if so, to make a card or scribble a note for them to cheer them up and to let them know that they are in their prayers.
Here are some of the kids works and let me know your ideas. I'm sure they would appreciate receiving them, especially from you guys, people they haven't met at all.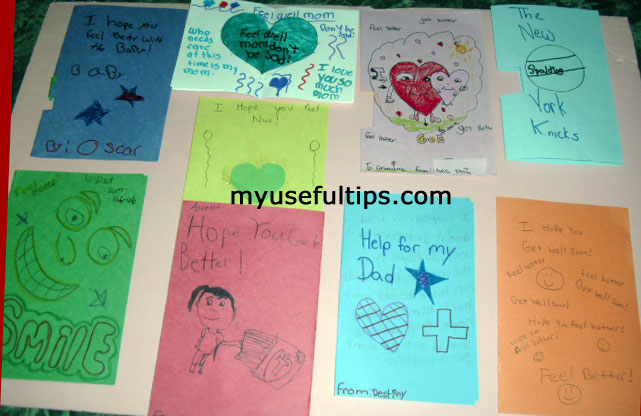 Some even took the initiative of making one for the victims of the earthquake and tsunami in Japan without being told. Wow, awesome thoughtful kids! Wonderful job!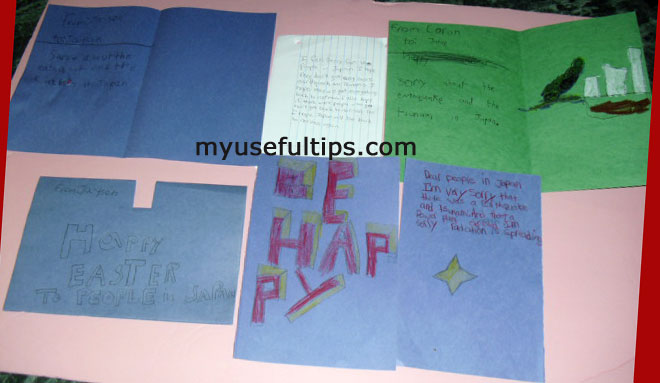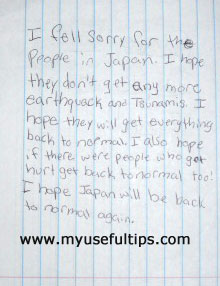 Shown on the left is an unedited note authored by a cute young girl for the people in Japan. She's a terrific doll!
Incidentally, the Catholic Relief Services (CRS) has designed a fund raising project, entitled "Operations Rice Bowl", in which majority (75%) of the proceeds shall be earmarked for CRS development programs worldwide primarily to help families and communities overcome the challenges of hunger and poverty, specifically in Haiti, Indonesia, Senegal, Honduras, and Kenya. The remaining 25% shall be used to fund the local diocesan programs all over the United States to alleviate hunger and poverty in certain parts of the country, especially the underprivileged and the homeless.
If you happen to be involved in a catholic school in the U.S., you probably have gotten this cute cardboard box whereby students were given the opportunity to help and contribute in any way they can during the Lenten season to care for our brothers and sisters throughout the world.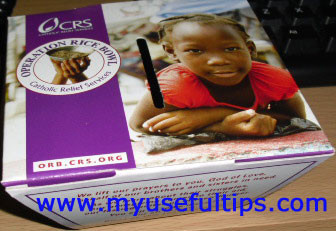 Have you done something like this before, or are you still about to do something like what the kids did?