Non-Profit Organizations – Governments' Partners in Socio-Economic Development
Non-profit organizations (NPOs), Non-Government Organizations (NGOs) or People's Organizations (POs) to some countries, absolutely play a significant role in pursuing development-related activities, particularly in advocating endeavors that promote quality of life, whether in least developed countries or in advanced and industrialized economies.

As the name implies, NPOs, NGOs or POs are traditionally not in equal terms as that of regular business enterprises where profit is the end goal. Majority of non-profit organizations and other similarly situated groups (e.g. civil society, etc.) are not earning companies, in fact, they rely heavily on donations from large private profitable companies, philanthropists and generous individuals via fund raising efforts and campaigns. NPOs and its variants have been established to support development projects of Governments worldwide, such as in poverty alleviation, environment, education, health, community development and other social services.

Throughout the globe, there are probably millions of NGOs, NPOs, POs and related small and medium scale cooperatives (farmers, fisherfolks, etc.) that are currently active and operational. In the United States alone, there are about 1.6 million NPOs based on the National Center for Charitable Statistics, with total assets of approximately $2.6 trillion. The bulk of the non profit organizations in the U.S. are located in California numbering 159,516 and New York which has about 99,765.

However, not all of the said organizations in the U.S. are accredited by the U.N., which means that there is a large number of NPOs and NGOs which have not been granted special consultative status with the U.N. Economic and Social Council (ECOSOC) and therefore do not have privileges to put forth their respective advocacies in the UN meetings and in other large fora and gatherings.

One example of a non profit organization in NYC which has been very actively involved in helping disadvantaged and poor orphaned children in certain developing countries is the Orphans International World Wide (OIWW). The company is not even a full-blown teenager yet, it has been in existence for roughly 12 years since its conceptualization in 1999 to respond to the call to help orphaned kids worldwide. OIWW represented by its founder, Jim Luce, was physically present and took the initiative in caring for some of the children who have lost their parents during the tsunami in Sri Lanka and Indonesia and likewise during the hurricane in Haiti.
OIWW provided an infrastructure in the said places where the orphans can be taught and served with their daily basic needs on a "full-care" basis. Fully cognizant of the fact, however, that these orphaned kids could very well adapt to the situation and live as normal kids if they will be with their close relatives (grandparents, aunts or uncles and other relatives) who may be willing to raise them just like their own, OIWW changed its strategy to adopt the so-called "family-care" scheme. This strategy was proven to be more effective and community-friendly as it did not only maintain the ideal family environment but it also provided the orphaned kids to have normal lives, taking into account their emotional and psychological mindsets.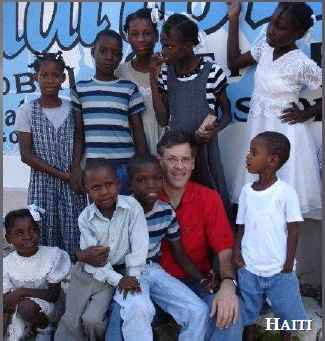 (photos are courtesy of oiww.org)
The said "family-care" strategy was an innovation of OIWW and a change from the conventional orphanages where all orphans are housed and administered by a particular organization. Under the new set-up, OIWW provides the monthly stipend for the kids' school fees, including, medical and dental, clothing, and even after school related activities while the kids continue to be with their foster extended families. The kids performance are being overseen and monitored by OIWW's local volunteers who reports the same to the mother office which is based in NYC via internet and other modern technology.

In view of recent developments, OIWW's founder recently formed a related organization (visit lucefoundation.org for more details), the mission of which is to support "young global leadership" related programs. It has partnered with other NGO's which also share the same interests, in line with UN's Millennium Development Goals. The Foundation's plan to join forces with other NPOs was mainly for cost reduction measures in terms of operational and administrative expenses. This is quite a practical move especially for start-up non profit organizations.
One of the Foundation's prime and initial fund raising efforts was the 21st Anniversary Black Tie Gala Dinner held recently in NYC, in tandem with the United Nations SRC Aux Antilles Club and in conjunction with the United Missions of Haiti, Cape Verde, Hungary and Czech Republic in support of its International University in Haiti. Proceeds from the said event were specifically earmarked for the "construction of the new Educational Pavillon on Uni Haiti's Academic Campus and funding for their second year English-language Leadership and Mentoring Program for Haitian University students in Leogane. "

So, my dear friends, readers and generous lurkers, if you have the passion to help global youths who can be effective potential leaders and the poor orphans too, please visit their websites at oiww.org and lucefoundation.org and feel free to directly coordinate with them.

I have personally been involved in one of their endeavors once upon a time and a staunch supporter for this cause.

So guys, come on let's support the aforesaid projects. A few of your green bucks, big or small, can make a difference to a bright young orphaned kid and other children worldwide to be future global leaders.