Persons Are Gifts….
"Persons are gifts…..they come all wrapped so differently, some so loosely, others so tightly, but wrappings are not the gifts"…., and so the song goes.  A nun taught us this beautiful song in our teens and its simple lyrics struck me more than its melody which is pleasing to the ears as well. I'd like to thank her for this, wherever she's now.

We've met interesting people in our lives and we're just grateful for the opportunity to have encountered them, right? There are some of us who have remained faithful despite the distance and the absence of visibility (if there's such a thing) and keep the friendship open, but others would simply disappear without leaving a word. Friends make us happy, they put smile to our faces, frowns and wrinkle lines as well when they start to be nasty once in a while. Generally, however, they are gifts to us by God.

The past few holidays (Christmas and New Year's Day) were the appropriate times for us to express and send warm greetings to our friends, old and new, either via electronic mail or other means of communications. Greetings that would make them feel that they are treasured and remembered particularly during the said  important occasions.

Aside from sending greetings, one of my favorite things to do is wrapping gifts. It's part of the fun of gift giving and I enjoy doing it even if the gift is not as expensive as the rich and famous would hand out to their family and friends. In these austere times, there are also inexpensive wrapping materials available in any store. We just have to be creative and resourceful. In my case, I found some of my leftover wrapping papers, including my favored japanese paper and the colorful glittering strings which give  a "pop" to the gift.
Take a look!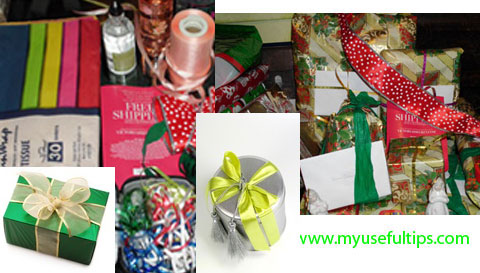 Would you believe that some of these wrapped gifts have not been sent out yet? Hmmm….busy body huh?

It would be good if we give without expecting something in return. That's a nobler and genuine way of giving. However, we feel glad when we receive something too. Just like kids, we are also excited to open our gifts and see what's inside. We all would love to receive gifts regardless of what it is. And we should be grateful for whatever is given us.
Don't mind the wrappings and the gifts….it's the THOUGHT that counts anyway. The givers, the people behind it so to speak are the true gifts to us by God, indeed!  
By the way, the song ends like this: "…We are all persons, we are all gifts, so let's have a grand exchange of gifts".
p.s.
To satiate your curiosity, some of the humble gifts received by me were:  two-toned (violet/black) one shoulder DKNY dress, Abercombie & Fitch summer tube dress, high-heeled brown snake skin Naturalizer shoes, Vera Wang printed scarf, Kenneth Cole white cardigan, Gap striped shirt blouse, Hollister white blouse shirt, evening sequined bag, 2 shawls, pin, candles, semi-precious stone pink bracelet, stainless utensils, a mirror, fashion biggie ring, Nine West bootie, U.S. Polo Assoc. shirt, chocolates and nuts (Almond Thins with cranberry dried fruit), Eddie Bauer socks,  and a host of Bath and Body works and Victoria Secret beauty stuffs.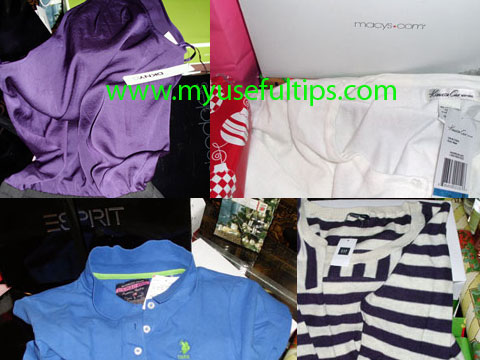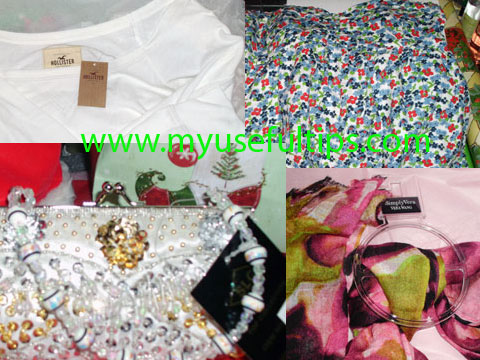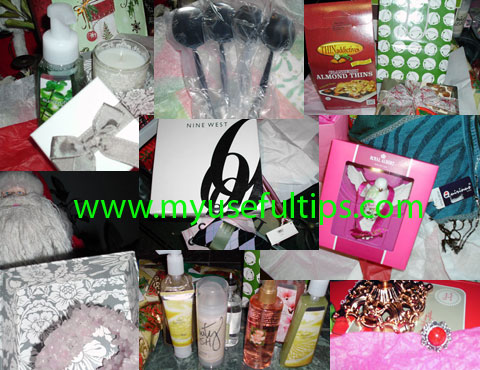 Wow!  What can I say….
To my dear family and friends, thank you so much  for the thoughtfulness!