School Year-End Activities – Helpful Tips and Thoughts
Wow! What a great school year!!!! Summer vacation has just started  for some students here in the US. Most of the schools are still busy preparing for their culminating activities particularly for those graduating in middle and high schools. Students who have exerted more effort and performed excellently in class will definitely receive awards and recognition from their respective Alma Maters.
However, for students who are in lower grades/levels and have showed outstanding performance normally gets awards during recognition day. Have you ever seen the reaction of children receiving awards in school for their good performance  or have you experienced yourself going to the auditorium stage or just even in front of the class room to receive school award certificates, medals or ribbons for academic excellence? 
 Oh, you could just imagine how the faces of these kids light up and feeling  so proud of themselves. Being recognized for an outstanding performance and receiving an award definitely bolster one's confidence and provide a real sense of accomplishment that one put into his/her studies during the entire school year.
Whether you're a teacher, coach, tutor, mentor, parent, catechist, scout troop leader, school administrator or a family member, the same policy for giving year-end awards applies– if you want to reward the kids for a job well done. Award certificates or anything of that sort are brilliant ways and means to do just that. Apart from awarding certificates, some teachers, or any of the aforesaid professionals may opt to give out so-called candy awards, pins, lapels, medals or any related giveaways which can be ordered from an expert or bought at a discount store or from a wholesaler.
Working with children is challenging, rewarding and sometimes can be so funny! In my little time of dealing with them, I could say that just like last year, I was so fortunate to have such a wonderful group of about 25 children with ages ranging 9 to 11 yrs. old. Oftentimes, these kids become part of my life, of my system! But just like in other classes, they too have to move on, to a higher level.
This year, I have decided to give out, on my own initiative, award certificates to all the kids. I believe each kid has his/her own strengths and talents. Regardless of the subject being taught or how large or small their achievements were, I thought the same should be recognized. The primary objective is to boost their confidence level and to make them continue to improve more on their craft or for them to even work harder.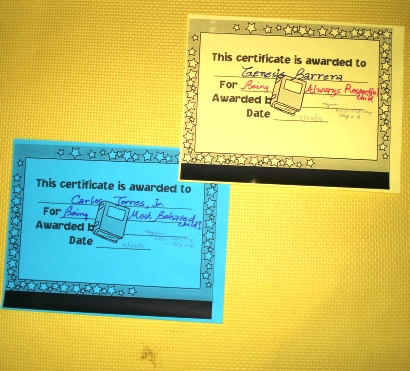 Of course, the usual awards were given to the Top 5 in class, the Quizbuster of the year, and for the runner-up awards. For the rest of the class, they likewise received awards for other categories such as the best artist, most behaved, most helpful, most polite, most honest, most kind, most punctual, most cooperative, most participative and so on and so forth. However, there was one category which I've asked them to nominate one student and vote among themselves. This is the award for the "Most Friendly to All and to God"! It was really amazing because almost all of the students want to be nominated. They couldn't just do it because the guidelines set indicated that a student can not nominate himself/herself and it is likewise due to the fact that they can vote only once. Of course, the winner was very much delighted and got the opportunity to thank everyone. especially  her supporters.
I was very much surprised of the overwhelming interest from the students and have even asked me if there are still other certificates available for them to receive. Some of them got 2 certificates to take home to share with their parents. Here, take a look of just how they beamed with pride of their accomplishments!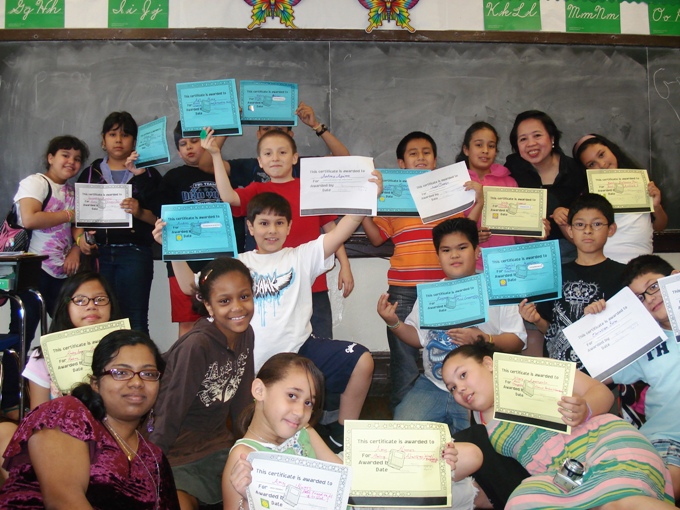 During the last day of the class and before the giving out of the said awards, evaluation sheets have been distributed to get their feedback or their comments on the topics  covered  during the whole class year. The said evaluation sheet gave them the opportunity to review and reflect on the many things they've learned.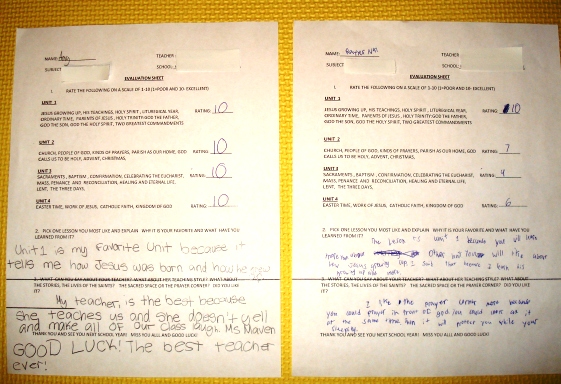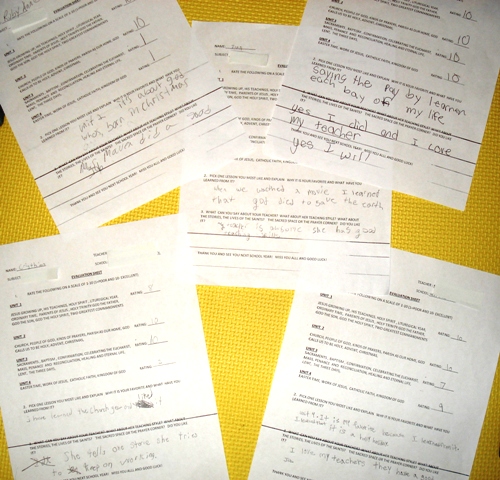 Likewise , in the said sheet, I asked them to comment on my performance. Just like in any organization whether be  in private practice or in the public sector, a performance rating is imperative so one would know how he/she fares for the said period.
THE QUESTION:
What can you say about your teacher, what about her teaching style?
THE KIDS COMMENTS (Note: Some were omitted because they are interrelated):
"My teacher is awesome, she has good teaching skills " – Juan
"Ms. ____did a good job" – Ruby Anne
"My teacher is the best because she teaches us and she doesn't yell and make all of our class laugh. Ms.____, GOOD LUCK!. The best teacher ever! – Amy
" I like my teacher's prayer corner more because you could pray in front of God. You could look at it at the same time it will protect you while you're sleeping" –Rayner
"I love Miss _____because she is nice and never sends me to the office".- Kiara
"My teacher knows how to teach. She also knows how to pray a lot. I liked it because I learned a lot" – Hairo
"I thought my teacher's nice. She taught in a strict style. I liked the prayer corner" – Kelly
"Ms. ______ is a swift, fast teacher who is the best at teaching and her scolds are never half-hearted. I hope I have her again next year!" – Andres (By the way, he's the smartest in class- Top 1 )!
"She is nice. She writes and explains" – Calden
"My teacher is very nice, kind and caring and I thank her for teaching about all things and also God" – Nasthasia
"She is a nice kind teacher. I love her and she is not a dull person" – Brianna
"I think my teachers are excellent. They worked hard all year to teach us." –Axl
See! That's what I was referring to……that working with children is indeed so funny, rewarding and fulfilling! They're awesomely honest guys!
Good luck and have a great summer!