Jesus is my Lord and Savior, my Master, my friend and my lover.
Jesus is also my provider; giving me good things and my needs.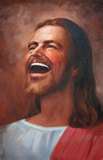 He is the only One who is true and sincere, faithful and loving.
He is true to His words and promises.
He is the One who truly loves me and cares for me.
He is the person who eases away my pain, washes away my sorrows and shares my joys and happiness.
He is a true man and a true God.
He saves me from all my troubles including impossible problems and hardships.
He is always there for me when everyone has deserted me.
He is my refuge, my rock and my strength.
Jesus is the Son of God but He is doing the work of our Father God in Heaven.
Jesus is always there for me, ready to help just like a good father of a family who is always there for his children.

Jesus is the extension of God our Father.
__________________
*DayMing is the author of this blog. One of the selected contributors for myusefultps blog anniversary. A very good reminder for all of us especially during this time of church year.