September 11, 2001 was the day when two local commercial planes started crashing into the twin towers of the World Trade Center. I recall vividly this day, I was in my home country when the said tragic incident happened. Coming from a grueling work-related meeting that day, I decided to relax a bit, turned on the TV before going to bed. To my dismay however, I wasn't able to sleep early and well after being glued on TV until the wee hours of the morning watching live via CNN the two planes flying strangely low and hitting the twin towers and bringing it down.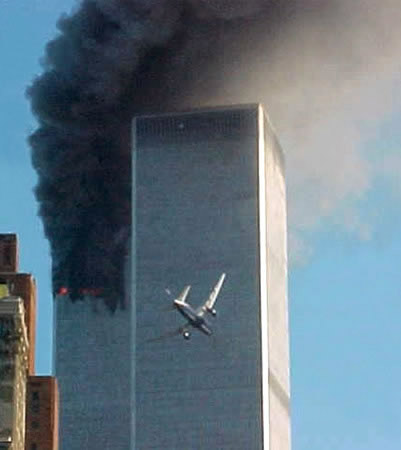 I was praying fervently while the towers were pluming with thick smokes and fires as it was reported that there were people trapped in both buildings. That was very sad day for me and I was horrified to see some people in the tower, waving white cloths trying to catch the attention of those whom they thought can save them and the others jumping out of the buildings. I got  worried that the incident could result  to a bigger political issue which could eventually affect the relationships of nations. I pleaded for Divine Intervention to bless those who lost their lives, their families and for the entire World as well.
That was nine years ago and for majority of Americans, the memories remain to date. Memorial services and programs were held in some parts of the U.S., although not as many as compared to the memorial events held during the 1st and 2nd year anniversaries to honor the victims of the tragic incident.
For the administration and parishioners of St. Lucy's Parish in Manhattan, they had their own humble way of commemorating the said event.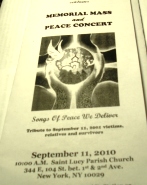 They decided to hold a solemn memorial mass and thereafter a Peace Concert. They requested the participation of high-quality and good choir groups, and guest performers from some parishes in NYC for the said event. The objective was to deliver "Songs of Peace" primarily to heal the wounds inflected on the hearts of the Americans, specifically those affected family, relatives and friends, and to honor the fallen victims of the said tragedy.
When our new voice coach and friend invited our choir group to bond with theirs for the said event, I did not hesitate since it would be an excellent way of offering my sincerest sympathy for all of the victims and their respective families, as well as to return a group's favor to a person who has shared his talent with us. As we may be aware, singing with the love and purity of intentions is twice as praying.
The concelebrated solemn mass with Fr. Lito Ramos, SFO  officiating it and Msgr. Oscar Aquino, JCD delivering the homily, initiated everything and it was followed by the Peace Concert.
Note: (Photos are not for reproduction, they are all properties of www.myusefultips.com)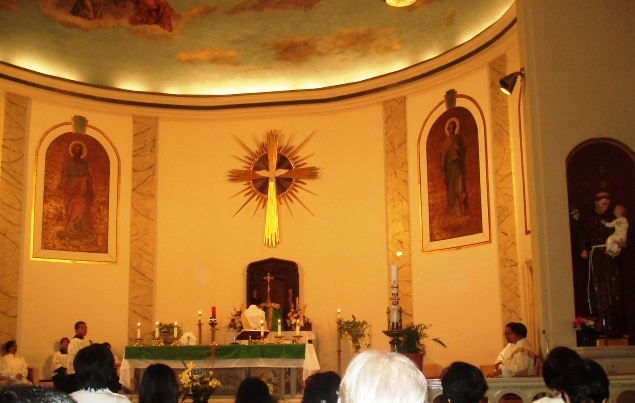 The Concert started with a medley song of Our Father and I Believe. I pretty much liked the rendition of the said song by the emcee (Mr. Arce) and the visiting Father from the Philippines, Fr. Lito Ramos. Such powerful voices which made me say "Bravo" and some people stand and applaud!
I would just like to quote a couple of lines of the medley which may be very helpful especially to those who seemed to have no hope in their quest for solutions to their problems and difficulties in life.
"….I believe above the storm the smallest pray'r will still be heard. I believe that someone in the great somewhere hears every word….."
Simply written but very touching! It only takes a little grain of faith for great things to happen in our lives.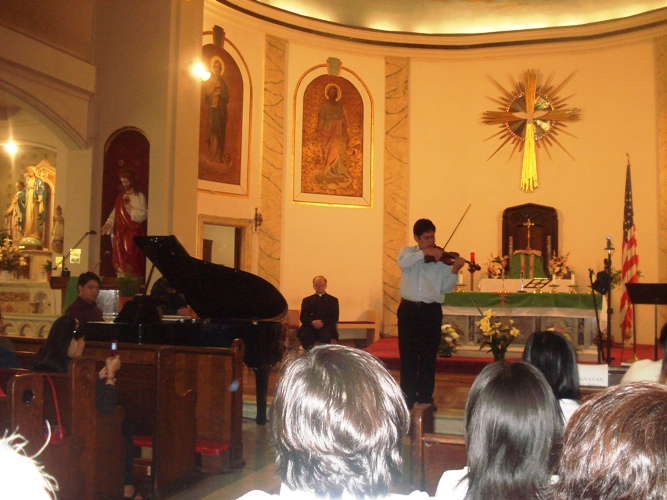 Equally magnificent was the violin and piano duet performance of "Bayan Ko" by guest performers who came all the way from Philadelphia. Did I hear it right? Especially nowadays, our home country is in dire need for help from all of us. It may not be in terms of monetary consideration but at least to show and express  the love and patriotism for one's country are virtues worth considering.
The parishes which participated in the said event are the following:
1. Ugnayan Filipino Choir of St. Francis of Assisi Church – They sang "Sa Iyong Piling" and "One Thing I Ask".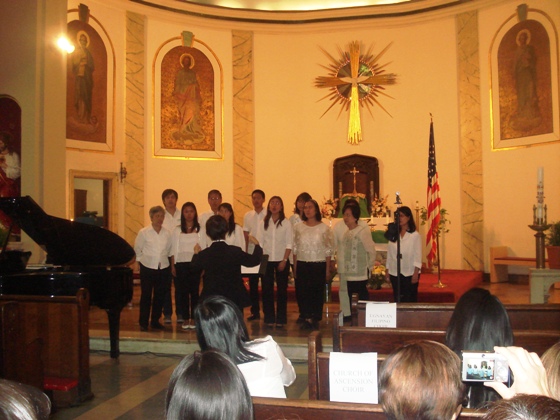 2. Voices of Praise of San Sebastian Church – They sang "Pie Jesu" and "Jerusalem My Destiny", one of my favorites. Destiny? A matter of choice or chance? It would take me a separate blog to expound my position!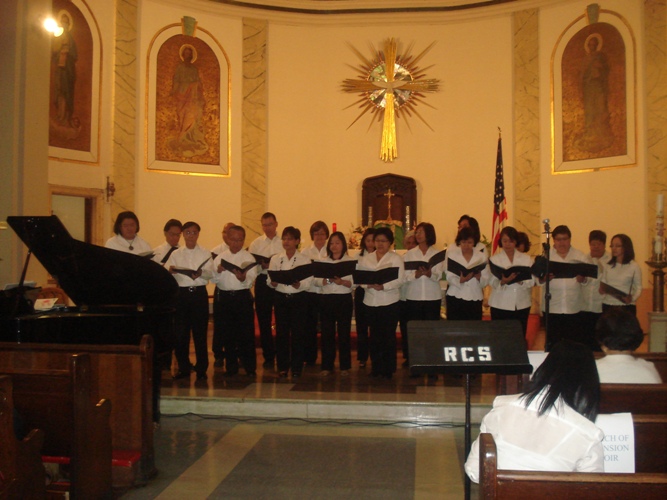 3. Church of Ascension Choir – They sang "Healer".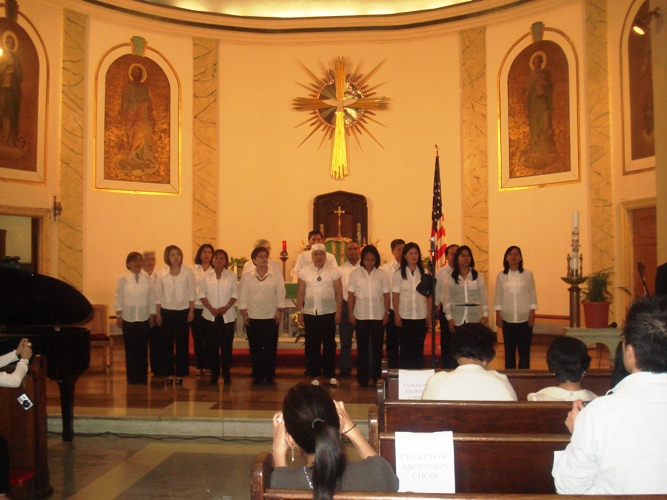 4. OLS Himig at Alay Music Ministry – Oh Yes! this is D' group! They sang Mariang Ina Ko" and "Your Heart Today". The song "Mariang Ina Ko", was timely and opportune as the birthday of the Mother of God was celebrated on September 8.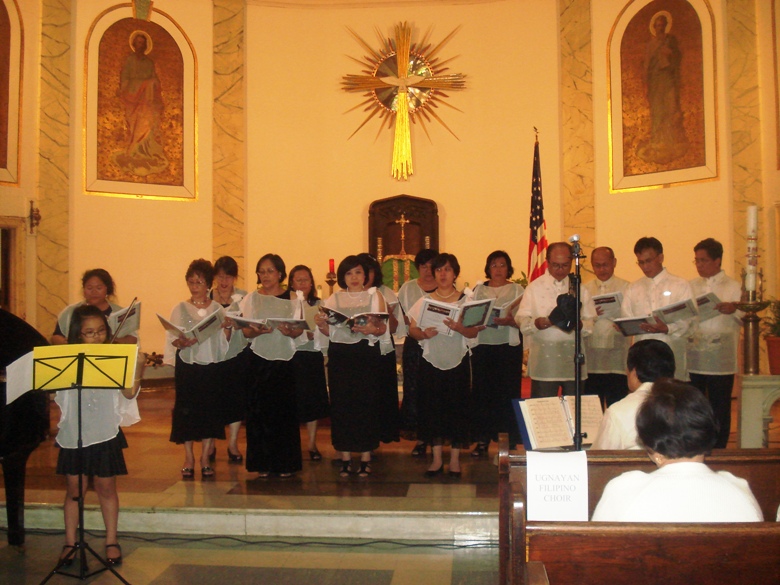 That's true, there are times we need to seek the intercession of the Saints, especially the Mother of God to help us in praying for God's graces, mercy and forgiveness. Your Heart Today is a very meaningful piece authored by M. Francisco, S.J. I understand it was written for a specific prominent family but it could be applicable to many of us too who, in times of pain and sorrow, we can always turn to God for reconciliation, healing , and petition even those found in the deepest chamber of our hearts, God will always be there!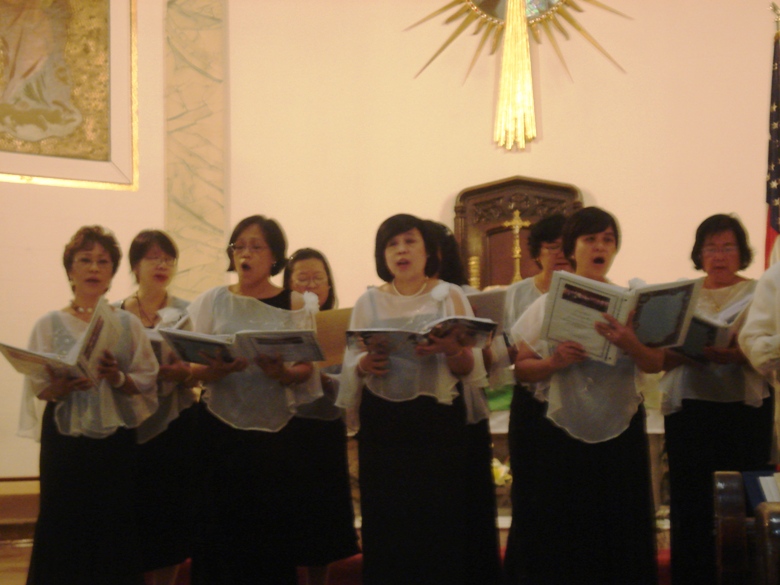 Kudos to Philip for the job well done and thanks to GP Eleria for the song which he shared with us once upon a time! Humility aside, I thought this group gave justice to the songs, it came out really well especially with a budding cute violinist around! Raising own's roof? Nah!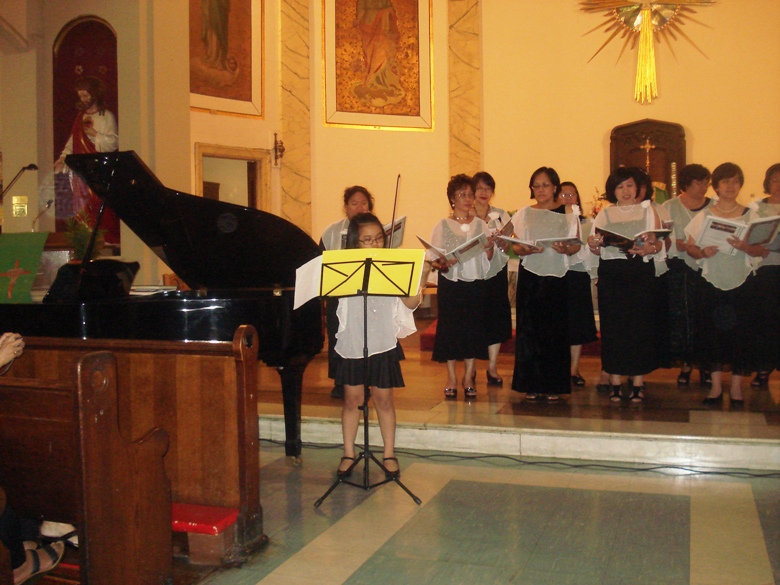 5. St. Lucy's Parish Spanish and English Choir – They sang Tanging Yaman, Let It Be, Gloria Gloria Alleluiah and How Great Thou Art. Wow, a Spanish and English choir singing a Filipino
song!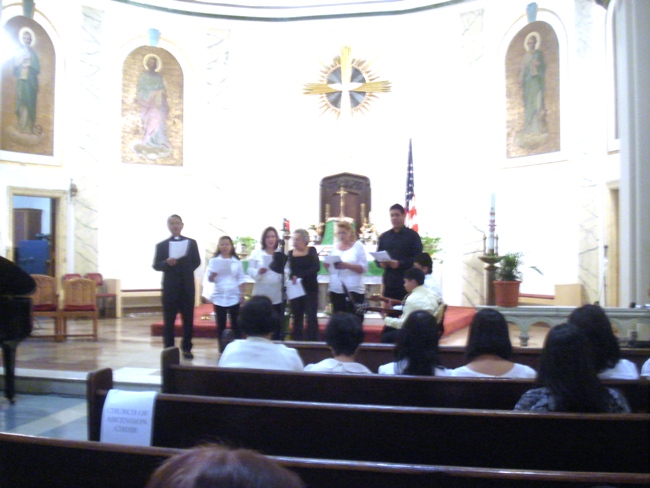 6. Our Lady of Pompei – Filipino Pastoral Ministry Choir – They sang "Ave Maria" and "The Lord Bless You and Keep
You".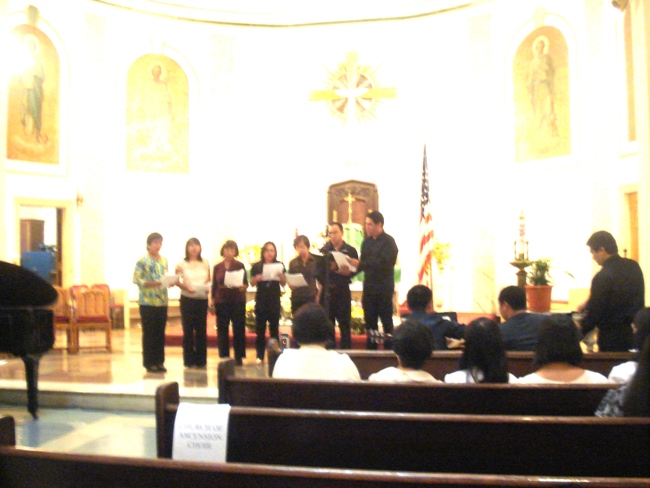 7. Last but not the least was the performance of San Lorenzo Choir. I am proud to say that I once was a part of this choir in some performances – the San Lorenzo Festival Choir. It was great to see them once again, similar familiar relatively young faces except for some new ones. As usual, they rendered the songs "Lead Me Lord" and "Prayer of St. Francis" very well and with passion.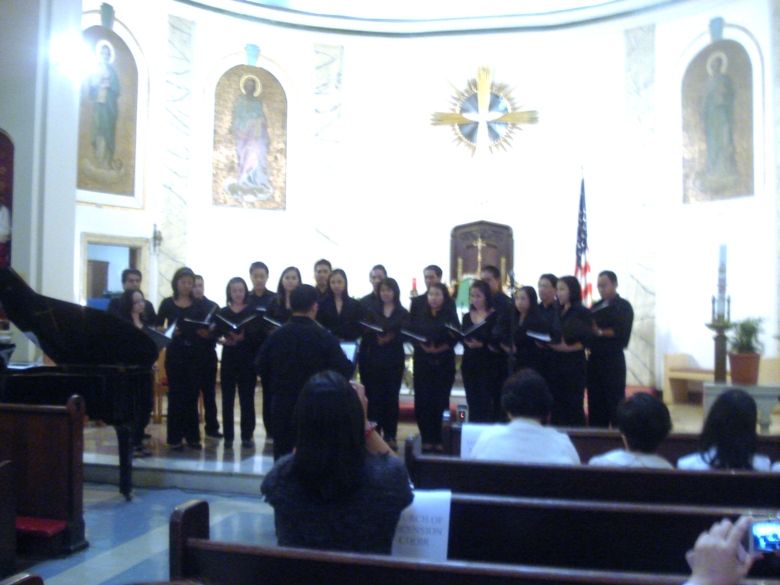 The concert was ended with a candle lighting and the so-called rosary chain with the community singing "Let There Be Peace on
Earth".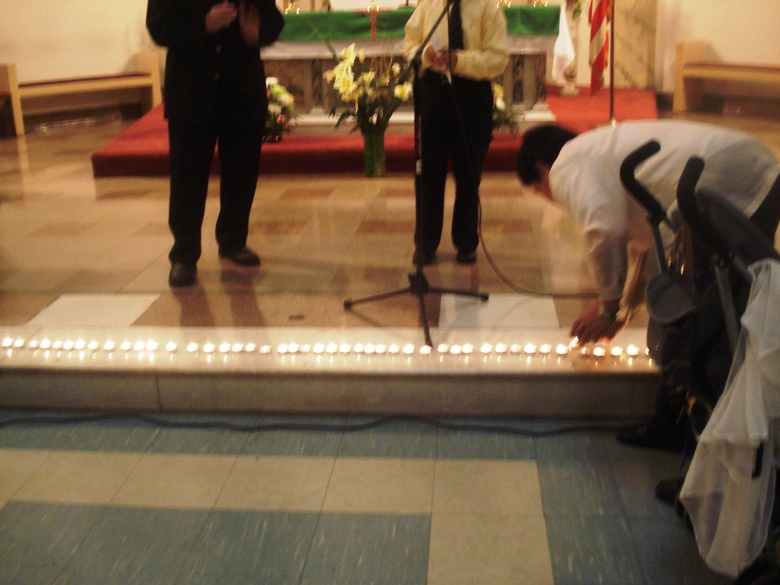 Overall, I would say, all the songs sung during the concert were very well performed. My congratulations for the organizers, for all of you and for all of us who shared their 3 T's (time, talent and treasure) for this event and who gave all their best to make the event a success.