A Tribute to my Mother-in-law on her 91st Birthday
I've known my mom-in-law for more than 2 decades but because of the distance from our place to theirs, we don't have that much enough interaction unlike those of other perfect bonding relationships between a mother and a daughter-in-law. Likewise, we have been away for a long time (living abroad) and by the time we came back, Nanay was not that active anymore. She refrained from traveling and joining family-related celebrations especially if outside their domain. Despite not being able to visit her and Tatay more frequently, I gradually came to know about her, her likes (e.g. green is her favorite color) and dislikes, who she was in the past and who she is now. Most often, the source of my information about her is either her son (my loving bff) or our brief encounters with her and Tatay whenever we pay them a visit in the province.
In the Philippines, the parents are commonly addressed either as Mommy and Daddy (Mom and Dad), Mama and Papa, Inay and Itay, or Nanay and Tatay. But in their case, they preferred to be endearingly called "Nanay" and Tatay. Both Nanay and Tatay are gifted with long life, in their 90s already, and with 11 children. However, most of their children are living separately from them (either abroad or in the Philippines) after getting married. Unfortunately one of their sons met a tragic car accident 8 years ago. This made them really sad.
Apart from being doting parents to their 11 children, they're also both successful in their chosen career paths. They may not come from wealthy and elite families of their place but because of their hard work, perseverance, determination and willingness to pursue their dreams, they were known as the crème de la crème in their respective fields. Nanay and Tatay were not just able to finish their studies but they both graduated with honors, Cum Laude, an academic achievement that their children are proud of. Nanay completed her Masters Degree in Education and Tatay his Bachelor of Laws (with 99% as his highest score in the Bar Exams). Tatay was also the Class Salutatorian in his high school days and the Editor-in-Chief of the school's newspaper in both high school and college.. Both of them became educators, as college professors in their place. As a lawyer, Tatay was an advocate and defender of human rights and justice, especially for the poor and the disadvantaged. Before their retirement, they were able to reach the apex of their professional life: Nanay as Dean of College of Education of a State University and Tatay as one of the Judges in their place.
Just like some mothers, Nanay loves her family more than anything, particularly her children, and she is proud of her grandchildren too. One time she mentioned to me, in one of our conversations, that she would like to spend more time with her children, all of them, and the thought of it makes her live longer.
Nanay is an epitome of a working mom. She can be competitive, achiever and a motivator to her kids. Despite her busy and hectic schedules, she would see to it that her children excel in class but at the same time instill good values in them. It was not difficult however for their kids to achieve the same because they were able to acquire the good genes from her (and from Tatay too to be fair) – good looks and brains! hmmm.
The foregoing were some of the factors why Nanay and Tatay were chosen (among the many nominees) as Outstanding Parents of the year in their beloved place, Cabanatuan City, Nueva Ecjua.
I understand Nanay, in her teenage days and even up to now, exudes a pretty youthful glow on her face and skin, she got no deep wrinkles and aging lines. Wow, such a great way for aging gracefully!
Nanay is a woman of many abilities and gratitude; she's also outspoken and a woman of words! She is always grateful to those people who have not forgotten her, who have done good things to her. Maybe that's a normal feeling for the elderly. They become more sensitive, thus, what they long for is affection, care and love. Whenever we see each other, she would be excited to see all of us – expecting us to greet her (either with "Mano Po" or a warm hug) but sometimes she would also jokingly tell us in a subtle manner– "oh ang mga anak ko, nagsisilakihan" lol…tsktsktsk. She enjoys telling us all about the past, some funny stories, and in my case, she would reminisce about who and how my bff was in his younger days, that he loved to sing, that he's a good son – not a whiner and a problem to his parents! She would also check on how our family is doing, especially my elder sister Mimi and her family. She often tells me to extend her gratefulness to her, for always remembering her as well.
Tatay celebrated his 92nd birthday last June while Nanay is celebrating her 91st birthday today, 9th of August. In their twilight years, it is amazing that both Nanay and Tatay are still able to keep their minds sharp and alert, despite their health conditions. Indeed, it is amazing that Nanay is still able to recite her favorite Tagalog poem, "Ang Pamana" (shown below) and some English poems as well.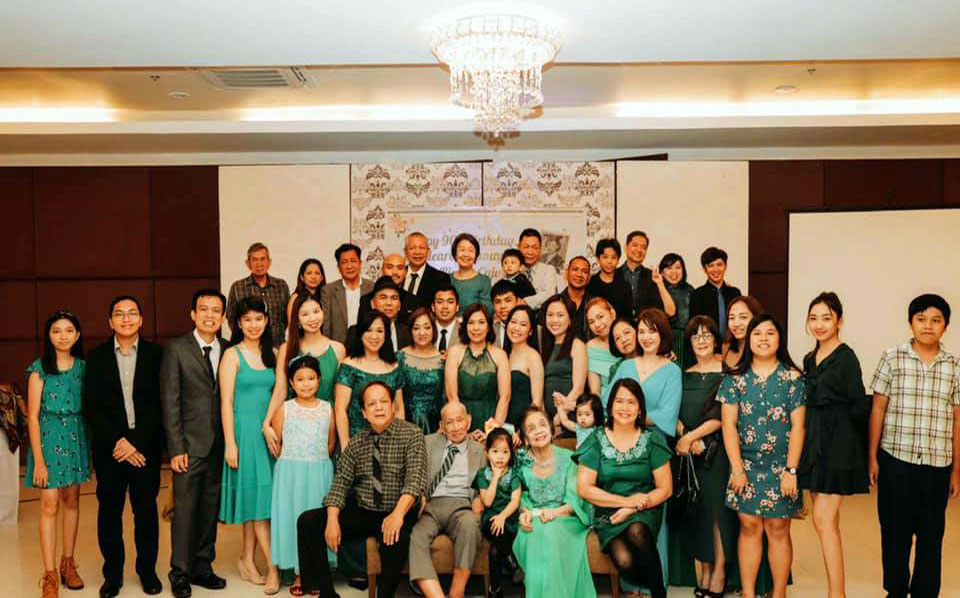 Nanay on your birthday, we wish and pray that God will grant you good health, peace of mind, and happiness. May you have more birthdays to come! We also pray and lift up our worries to God that this pandemic will end soon, so we can visit you in the near future. We also hope and pray that God will grant us all the blessing to gracefully age like you and Tatay. Amen.
My husband is the 3rd from the youngest in the family. Hence, this blog.
Ang Pamana
Isang araw, nakita kong ang ina ko'y namamanglaw
naglilinis ng marumi't mga lumang kasangkapan;
Sa pilak ng kanyang buhok na hibla ng katandaan,
nakita ko ang maraming taong niyang kahirapan…
Sa guhit ng kanyang pisnging lumalalim araw-araw
nakita kong ang ina ko'y tila mandin namamanglaw,
At ang sabi: "Itong piyano'y sa iyo ko ibibigay,
ang kubyertos nating pilak ay kay Itang maiiwan,
mga silya't aparador sa kay Tikong ibibigay,
sa ganyang ko hinahati itong ating munting yaman."
Pinilit kong pasayahin ang lungkot ng aking mukha,
Tinangka kong magpatawa upang siya ay matuwa,
Subali't sa aking mata'y may namuong mga luha
na hindi mapigilan at hindi ka masansala;
Naisip ko ang ina ko, ang ina kong kaawa-awa,
Tila kami'y iiwan na't may yari nang huling nasa.
At sa halip na magalak sa pamanang mapapala,
Sa puso ko ay dumalaw ang lungkot na gunita,
Napaiyak akong parang isang kaawa-awang bata't
Niyakap ko ang ina ko at sa kaniya ay winika:
"Ang ibig ko sana, Nanay, ikaw'y aking pasayahin
at huwagko nang makita ikaw'y nalulungkot mandin.
O Ina ko! Ano ba ang naisipa't iyong paghahati-hatiin
itong munting kayamanang maiiwan mo sa amin?"
Wala naman, yaong sagot, "Baka ako ay tawagin ni
Bathala, ang mabuti'y malaman mo ang habilin:
Itong piyano, yaong silya ay alamin.
Pamana ko na sa inyo, mga bunsong ginigiliw!"
"Nguni't, Inang," ang sagot ko, "Ang lahat ng kasangkapan.
Ang lahat ng yaman dito ay hindi ko kailangan;
Ang ibig ko'y ikaw, Inang, at mabuhay ka na lamang,
Hihilingin ko sa Diyos na ang pamana ko'y ikaw;
Aanhin ko ang piyano, kapag ikaw ay namatay,
Nihindi ko matutugtog sa tabi ng iyong hukay;
ang nais ko ikaw, Inang, at mabuhay ka lamang,
Ililimo ko sa iba ang lahat ng ating yaman;
Ni hindi ka maaring pantayan ng daigdigan,
Ng lahat ng ginto rito, pagka't ikaw
O Ina ko, ikaw'y wala pang kapantay!"