Some people don't mind multi-tasking especially in this high-tech age. It is much easier and possible to actually do anything at the same time. It just occurred to me now while drafting a report, my eyes were diverted to the live final tennis match of Spain's Rafael Nadal and Serbia's Novak Djokovic for the coveted men's title of the U.S. Open being shown at the right side of the 25-inch computer monitor and listening to a favorite ipod tune, all at the same time. I am not an avid fan of lawn tennis but I have a heart for it as my Dad used to play this game locally in his heydays and in fact had won trophies for being good at it. But guys, you see I am not going to delve on the technicalities of the game, let's leave it to John Mc Enroe and other tennis gurus who may be competent to comment on the strategies used by said top notch players.

I was not paying much attention to the players' performance as my eyes were glued to the sports outfit the said players were wearing, which to my opinion affected their performance and compelled me to write something about it. Normally, tennis players these days would want to look at their best during the games. In this case, Nadal was sporting a slightly tight fitted blue jersey-like Nike shirt while Djokovic was in his Sergio Tacchini cotton-like white tailored shirt. Although at first glance during the start of the game, Nadal's slightly tight fitting blue shirt was fashionably a "killer" which showed his very well structured athletic body and big muscles, Djokovic's white tailored shirt which appeared unfashionably flat and boring, on the other hand, became a "savior" at the end of the game! Why? Here's the culprit!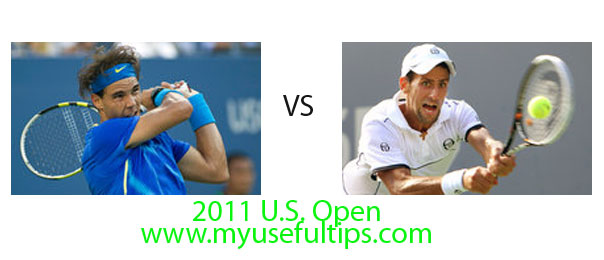 During the second set of the game, Nadal had already sweated profusely because of too much effort, running from side to side to his defense and unfortunately to the point that he was dripping wet from head to toe, obviously captured by camera was his wet hair and shirt, which adversely affected his overall look! While Nadal was already experiencing such discomfort, Djokovic in contrast still appeared cool and sassy enjoying his lead in the match. Apparently, his immaculate white traditional tennis shirt miraculously helped him in a way absorbed the accumulated heat in his body, causing him to sweat less!

While Nadal's somewhat tight fitting blue shirt may look great in sports fashion wear and runways, it could have been far better if his fashion designer and strategist advised him to wear something comfortable during the game or probably they could have adopted a good balance between fashion and comfort. The objective to look good in the tennis court became a blunder and caused Nadal to feel uncomfortable because of heavy sweating and the tight hugging wet shirt. The sweat falling down from his forehead to his nose was also a bothersome, forcing him to wipe it from time to time. It was good that he did not suffer from dehydration and exhaustion in view of too much perspiration.

The fashion and the sweating aspects were absolutely not just the grounds for Nadal's failure to win in the game, but in my view the said factors played a role. These guys are currently the world's top 2 incredible tennis players and it could have been anybody's game! In this match, Djokovic's championed the game once again and bagged the 2 million dollar reward! His outfit during the match, although not so fashionable, provided him the needed comfort all throughout the game!