Boracay: The Paradise To Beat! – The Second Day
I woke up the next day looking forward to having a glimpse of the beach at daytime as it was getting dark and raining when we reached the island the other day. Note that in tropical islands like those in the Philippines, weather can be erratic and unpredictable, and so I was skeptical of the events that would be in store for the Boracay visitors at this time of year. When I rushed out of the hotel room, I was glad to see the morning sun smiling; its beaming rays extended to the hotel's veranda made me smile too! I thought it would be a great time to plunge into the beach waters knowing that it could be hot and humid all day!

The hot native "tsokolate eh" or the "chocolate e" (heavy hot chocolate) served during the buffet breakfast literally perked up my day! It tasted like real chocolate (lol)!
(Note: Photos below are for exclusive use of www.myusefultips.com only.  Hence, no reproduction is allowed!)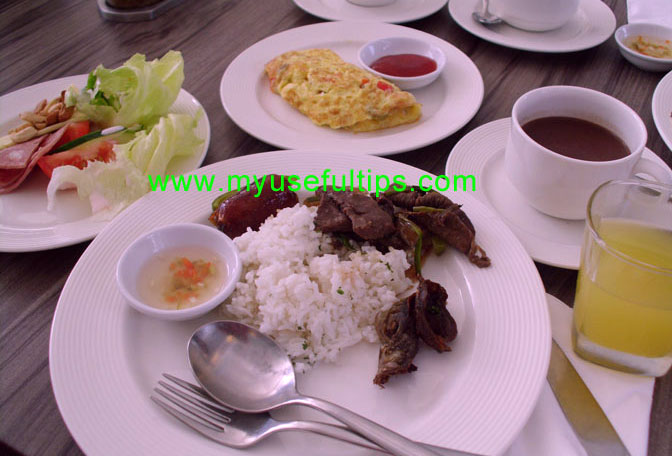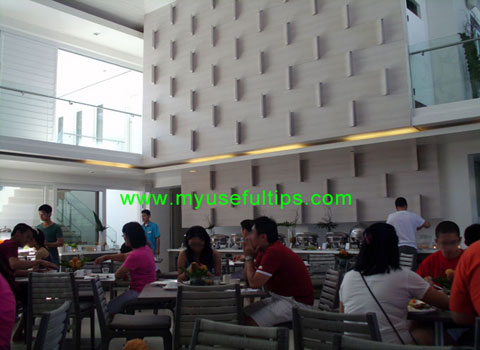 After having the complimentary buffet breakfast (yum, yum, yum !), we proceeded directly to the beach which was only a few steps away from the hotel's dining area.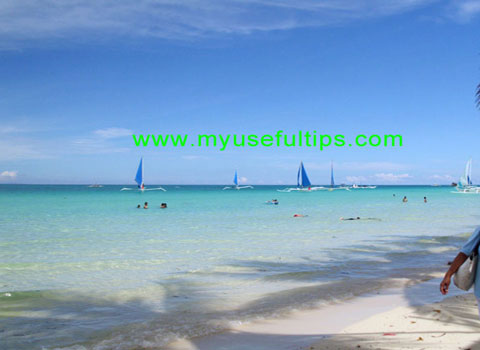 It was truly relaxing and refreshing to see the beach so close and feel the warmth of the sand and water. I had to remove my Brazil-made havaianas slippers so I could soak my bare feet into the wet white sand along the shore. The sand's powder white/soiled white were soothing and the beach was astonishing! It was very colorful, the sea water looked like a rainbow from afar but only thing, it had no shades of red and orange colors. However, the yellow, green, blue, violet and indigo shades were evident. The light greens and yellows could be seen in the shallow waters, while as I looked from afar to the depths of the sea, the light blue, light violet, indigo and dark blue hues were somewhat manifested; as the sea waves moved, the colors changed. Was I hallucinating? I don't think so. You have to experience it to believe me!

Along the sides of the beach were coconut trees which to me served a number of useful purposes: e.g. beautification, protection from the angry sea waves as the sturdy trunks of the trees block the latter when it ferociously crash the beach, and most of all it also could serve as a romantic spot for lovers and honeymooners to spend under the shady tree! Hmmm, day dreaming!

Perhaps, I am one of those from tropical countries surrounded by oceans and seas who is still reluctant to swim. Seriously, I merely immersed myself into the shallow waters, bending my knees and treading the waters by moving my arms, really couldn't swim, not even a dog paddle. Poor me! Know why? I acquired this semi-phobia of seas and oceans, I almost drowned during my childhood. But I overcame such fear factor and that's why I still look forward going to beaches and pools.

While we were excited to embark on our swimming escapade, it started to rain. You see when it rains and is accompanied by winds, small sea waves are being formed. And that's what really happened. It was my first time to experience being in the sea waters while raining. It was fun to play with the small waves, it was very very nice! The feeling was sort of being in a spa taking a shower with a gentle massage. The ripples of small waves was practically doing a soft rub down on my back! What a luxurious nature bath!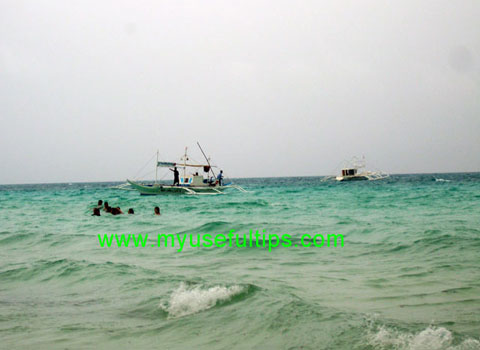 And so, after savoring the coolness and gentleness of the sea waters, we decided to have a walk and look for a hearty meal. We were thinking for a fresh sea food galore, which Boracay island is also known for. There are a lot of dining areas, bars and restaurants which would cook for you a variety of sea foods (e.g. crabs, lobsters, prawns, all kinds of fish, scallops, sea shells for soup, etc.) according to your preference.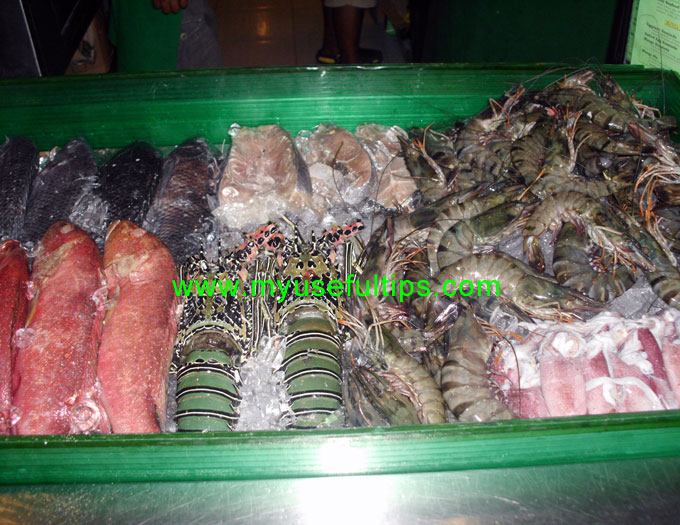 However, if you are a food connoisseur and prefers to cook food by yourself, you can simply go to the public wet market and buy them directly from the fishermen or the fish vendors. There is also a Budget Mart where you can get mineral/springs/purified waters, all kinds of drinks (local and imported), personal needs and a lot more. There's practically no problem as far as food and drinks are concerned.

Subsequently, we toured around and found all kinds of people walking and frolicking in the beach. There were families spending quality time together, football buddies, camera conscious and photo buffs and would you believe, even newly graduates with their graduation togas and caps on, had much enjoyment in the island.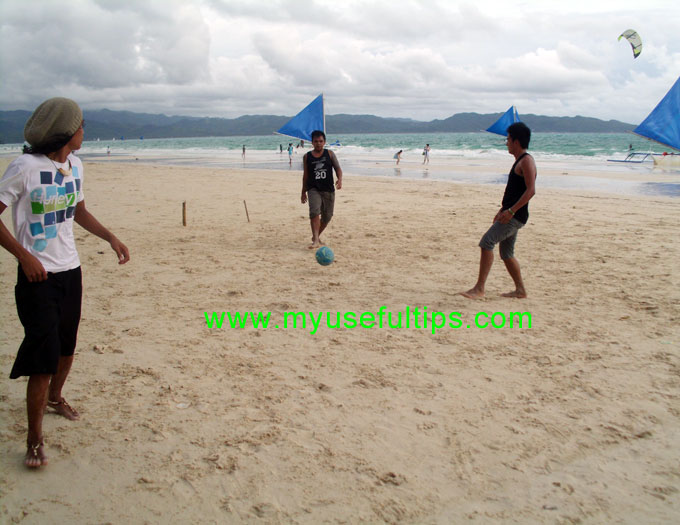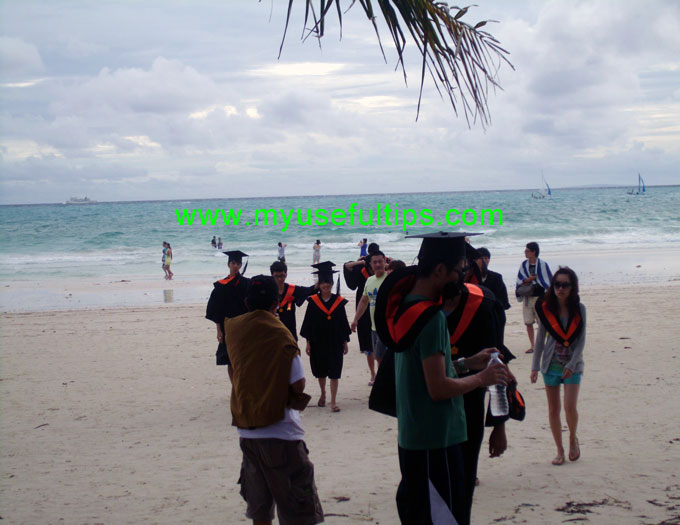 Various commercial establishments already abound in the area. The shopping outlets are almost everywhere, from branded stuffs to native local wears and accessories. I have a useful tip to share with you guys. For a certain similar product for instance, you may try looking at the things being sold by local small entrepreneurs. They have these makeshift store stalls or booths located along or a few steps to the seashore where certain souvenir items, handicrafts and latest trends can be acquired at a much lower price ( with your bargaining prowess of course!) vis-a-vis those located inside the  "d' mall", Boracay's commercial district.

Boracay is also famous for tattooing activities, especially for the teens and tweens and enthusiasts. You can have a henna tattoo for only a P100.00 to P400.00 ($2.50 to $10.00) which could last for weeks or a month, depending on how you handle it. However, if you are prone to or you have history of allergic reactions,  just don't dare to have your most sought design or letters printed on your skin, it might not be advisable. There are cases where temporary hennas can cause skin allergies. Hair braiding is likewise a trend in this island resort, both for men and women.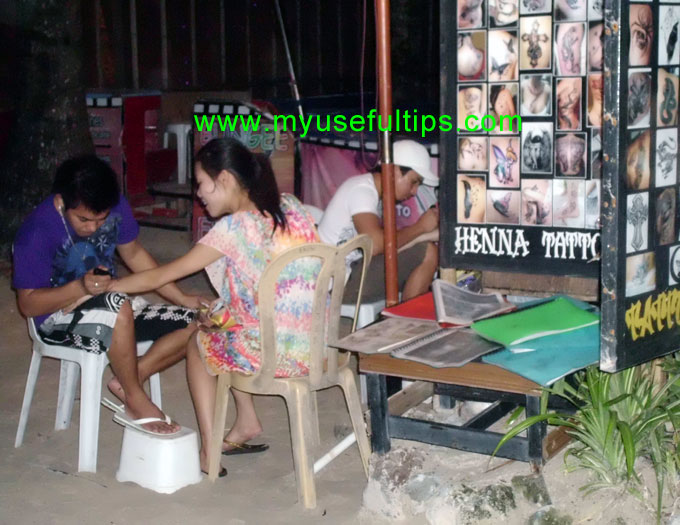 At night, some hotels offer a fine dining with full bar and with a lounge to relax on. It is usually being set up in a makeshift tent near the sea shore. In the hotel where I stayed, a seafood dinner buffet was offered for only $14.00 per head and an additional $11.00 if you decide to have unlimited cocktails just along the beach side. Said dinner buffet can be enjoyed with an amazing music performed by local music band group wonderfully singing all music genres.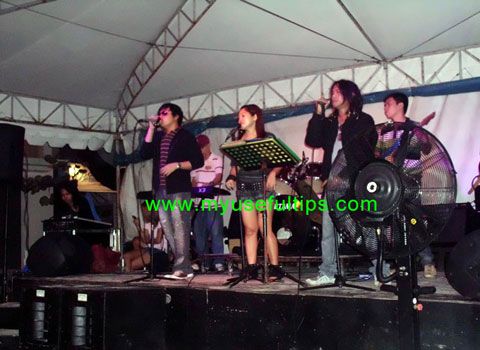 While the band was taking a break, the diners would then be entertained by fire dancers. Fire dancing is one of the many great features Boracay is known for during night time. In our case, what we saw were young boys (yes, they were boys, clothed in a girl's wardrobe, they were actually legitimate gays!). They were probably in their late teens or early tweens and I should say experts in fire dancing, doing some acrobatic acts, creating unique backward and alternating moves, graciously dancing to the tune of pop and sometimes bohemian/middle eastern music. They went around the diners' tables and made them feel of the heat of what they're holding on (ooops I was not sure of the thing but I know there was kerosene poured on it). Amazing, thrilling but could be dangerous too! Even the passersby/onlookers were enticed to stop by (outside the tent) and watched the daring fire dancers, for free!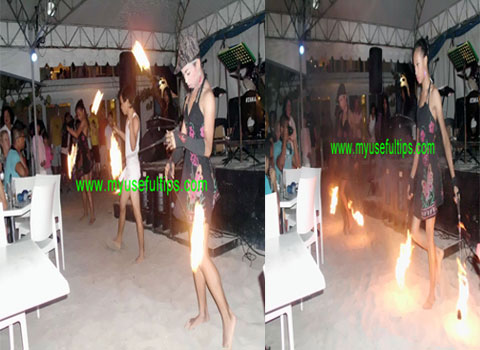 Whew, the second day was a hectic fun one! I thought the third day would plainly be strolling around the white long beach and do some window shopping mostly in the booths of the small local entrepreneurs.  Oh,  Boracay is definitely the place to be…. to beat!  See ya in my next blog!