Feng Shui Lucky Colors For 2015: How It Differs From Pantone's?
Pantone Color Institute (Pantone), the company officially recognized to select the Color of the Year specifically for fashion, has chosen "Marsala" as the 2015 Color of the Year. According to Pantone, "Marsala" is a "naturally robust and earthy wine red", a subtly seductive, hearty and stylish shade which would be universally appealing not only to the fashion industry but also to industrial designs, home furnishings and interiors.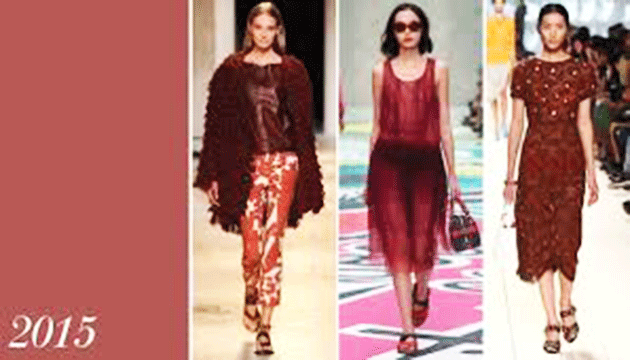 In contrast with Pantone's color for 2015,  feng shui experts suggested certain colors believed to bring "luck" and "success".  These  lucky colors vary depending on one's birthday and birth time using so-called Yin-Yang Five Elements (Metal, Water, Wood, Fire and Earth) and the 12 Animals (Rat, Ox, Tiger, Rabbit, Dragon, Snake, Horse, Goat, Monkey, Rooster, Dog and Pig).
For 2015 which is the Year of the Sheep, the major lucky colors of the Wood feng shui element would be 1. ) Green and 2) Brown. There are other Wood-friendly colors such as Blue, Beige, Warm Grays or even Black.
While "Red" is considered lucky to wear during the day of the Lunar New Year itself, some feng shui experts consider "Red" as one of the least favorable colors for 2015 and should be avoided  together with white, dark gray, purple and orange. There are other astrologers though who view the red and white colors as lucky for those people born under other animal signs, as shown below:
Lucky Colors                                                    Animal Sign
Blue                                                                Ox, Dragon, Monkey
Yellow                                                             Rat, Monkey, Rooster
Green                                                              Horse, Tiger, Rabbit, Goat, Dog, Pig
White and Gold                                                Rat, Dragon and Snake
Red                                                                 Dog
Now, those "fashionistas" who are at the same time feng shui aficionados would have a hard time choosing which color would best suit for them fashionably (Marsala or deep red wine per Pantone) but is considered least favorable per feng shui gurus, and at the same time comfortably  thinking that the colors green, brown, blue and other lucky colors they're wearing would be able to give them an auspicious life.
For me, bright colors work for me. I don't mind what people say as long it looks good and I feel good in what I wear, that would be fine. I believe that bright colors brightens our faces and it can change our moody outlook too. But of course, it would make us comfortable if the color and the style we're wearing is right for our specific zodiac animal. So, if you can't wear or you don't have any colored clothing specific to your zodiac sign, perhaps you can wear a lucky colored mascara, lipstick or blush-on, or even a rose or yellow tinted glasses or even your accessories and home decors,  again depending on your lucky color!
Think about it!