Elegance Never Goes Out of Style!
Don't we  just love it when a facebook friend posts a picture of a bevy of beautiful ladies having a great time and dressing up in a charity ball for a cause?
I was truly impressed by the way these Filipino-Americans in New York (photo shown above) flaunted their fashion sense by wearing an "all pink" elegant gowns coupled with bejeweled tiaras and with all smiles and in giggly mood, like they're 16-year-olds! It was the right time of the year for them to strike their youthful passion and make fairytales do come true, dressing up like princesses in a timeless elegant fashion! These ladies have been successful in their respective careers and are just reaping the benefits of it. Truly admirable!
The pink ladies ( Helen Labarbera, Becky Samanyaphon, Cynthia Ballenas, Cora Reyes, Ramona S. Gapasin, Marieta Lamar, Ollie David, Marian Hirshenson, Ma. Nelda Bernales, Dr. Elma Castillo (Fiesta In America 2014 Santacruzan Hermana Mayor), Dr. Dolly Rivera, Meredith Malasig, Dr. Alicia Almendral, Helen Castillo, Rose P. Javier, and Linda Auleta) appeared as if they were anxiously waiting for their escorts to dance the Cotillionette Waltz.
Dancing the cotillion is like walking or sliding gracefully, displaying charm, and with the great aid of the ladies' fabulous gowns, the dance would always have the same ending, the men bowing and tenderly holding the ladies' hands to their hearts content! Aaah, tel douceur et elegance!
Annual cotillions are being held as one of fund raising effots of various organizations where attendees make donations for certain causes, and this is occasionally undertaken by Filipino Americans abroad. A truly noble undertaking!
Fashion is part of life. I am a lover of life, hence, I love fashion, especially fashion with elegance! For women, being elegant in what they wear makes them look more feminine, attractive and mature. The likes of Christian Dior,  Balenciaga, Oscar de la Renta, and Mark Jacobs would at times create great gowns, display them in runways and be admired by fashion enthusiasts. In fact, I would love to wear this Christian Dior pink gown below even only in my wildest dreams!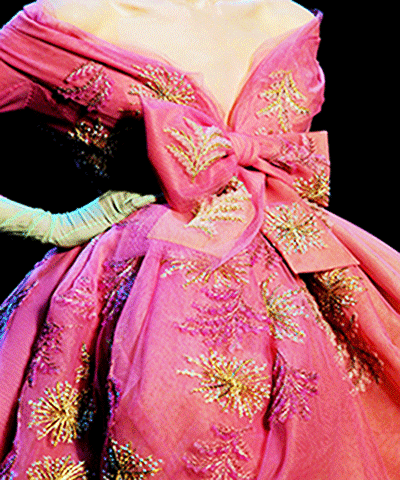 For some people, pink is hard to wear. For me, I don't mind wearing colorful clothes, specifically with hint of pink hues. I'm not in my sweet sixteen years, but I am a pink person perhaps because I feel happy wearing them especially with my co-blogger sister  (www.anasiantraveler.com) encouraging me that pink looks good in me, and it's just perfect!
We really do not have to be a cognoscente of fashion, it is how we create our style that is unique to us but still looks chic! What is important is the good spirit that is inside of us , just like the ladies mentioned above doing something for the good of others and at the same time enjoying the moment! Just remember being happy and elegant in whatever we do would definitely never go out of style!
Specifically, thank you Ms. Cynthia for sharing this lovely photo. You are a real Fil-Am NY fashionista!