It's now the first day and  the first week of 2012!  Wow! This is something to brag about! It's the 2nd time for my useful tip's blog site to welcome the New Year!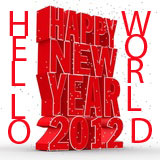 Performance wise, Year 2011 was far better than the previous year in terms of traffic figures: dedicated readers, frequent visitors, passers-by, even onlookers (or "lurkers") from all corners of the globe. While blog posts were lower by 25% primarily due to changes in plans and stricter rules, the write-ups however were made to be relevant with current trends and issues.

Hopefully 2012 will be a better year for my useful tips. Being a clever and an active Piscean (blog was established in February last year), it will strive to pursue its dreams. Based on astrologers projections for 2012, Pisces will encounter exciting and challenging events, and this is something for all of you out there to look forward to.

On behalf of myusefultips.com, I would like to greet you all a Happy New Year and a fun-filled days, weeks, months ahead of us! I hope you too will be there to support any charitable projects to be undertaken by myusefultips.com in the future.  Sincerely and Cheers!