Meet The 2015 Distinguished Fil-Am Women in NY!
U.S. Census Bureau showed that Filipinos in the United States are currently the second largest Asian community (about 3.4 million immigrants plus 1 million undocumented), majority of them are in the West Coast (e.g. California, etc.). However, there is also a growing Filipino community in the East Coast particularly New York and New Jersey but it is the Chinese and Indians who occupy the top immigrant post. As mentioned in my previous blogs, some Filipino-Americans (Fil-Ams) are making waves in the U.S. considering their nature of work and valuable contributions to the entire community, Filipinos and non-Filipinos alike.
As previously mentioned in some of my blogs on migration, the Philippines placed 3rd among the top recipients of remittances from Filipino immigrants around the globe. Latest available World Bank data revealed that in terms of their contributions to their home country's economy, Filipino immigrants remitted about US$ 26 billion, next to India and China.
Apart from the said economic contribution, there are other gains to unlock from Filipino migration. The Filipinos, for instance, who are living and working abroad serve as "Ambassadors" of their homelands while working hard to earn for their day to day living. A major portion of their hard-earned dollars redound to the economy of their adopted country, e.g. savings and daily expenditures. They are able to promote their homeland's tourism, culture and tradition, and the people's unique hospitality. They are also able to transfer technology gained from their home lands, bring new perspectives and skills into the new place.
For 2015, the Philippine Consulate General New York led by Consul General Mario de Leon and the Philippine Mission to the United Nations picked four (4) distinguished women in New York, namely: Dr. Connie Uy, Judge Lorna Schofield, Vanessa Manzano and Nicole Ponseca. These ladies showed exemplary contributions to the Filipino Americans in their respective fields.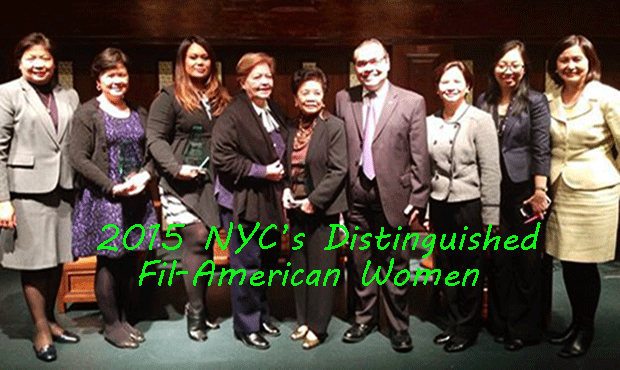 Based on the Philippine Consulate's office data, below are the brief profile of the said awardees:
Dr. Connie Uy is a Professor of Pediatrics, Vice Chair for Clinical Affairs and Director of Pediatric Nephrology at the Rutgers-New Jersey Medical School.. She has received its University Master Educator Award and was inducted into the Stuart Cook Master Educators Guild. The University of Medicine and Dentistry of New Jersey Foundation has bestowed upon her the "Excellence in Teaching" Award, and the student at New Jersey Medical School honored her with 11" Golden Apple" Awards. Dr. Uy was the first Filipino President of the Nephrology Society of New Jersey, and she raised funds for scholarship awards to renal fellows in training. She was the first Filipino to be an officer of the Academy of Medicine of New Jersey. She was the President of the Federation of Philippine Societies in New Jersey. She founded the first chapter of the UPMedical Alumni Society in America (UPMASA) and she was first female National President of the said organization with assets of $5.4 million, $3.0 million of which is an endowment fund.
Judge Lorna G. Schofield was confirmed by a unanimous US Senate vote as a UNS District Judge for the Southern District of NY on Dec. 13, 2012. She is the first Filipino-American to serve as Article III federal judge. Previously, Judge Schofield was a litigation partner at the international law firm of Debevoise & Plimpton LLP from 1991 to commercial matters, including the defense of companies and individuals in regulatory and white collar criminal investigations. Judge Schofield is an experienced trial attorney, building on the trial experiences she gained as a federal prosecutor. She was an associate at Cleary Gottlieb Steen & Hamilton, LLP from 1981 to 1984. From 1984 to 1988, Judge Schofield served as an Assistant US Atty in the Criminal Division of the US Attorney's office for the Southern District of NY. She is a former chair of the American Bar Association Section of Litigation, an organization in which she held many leadership positions over 20 years. Judge Schofield has written and spoken frequently about trial tactics and women in the legal profession. Schofield grew up in New Haven, Indiana and graduated from New Haven Senior High School in 1974. She was elected as Governor of Hoosier Girls State, a program of the American Legion Auxiliary, in 1973. Schofield received her Bachelor of Arts degree from Indiana University in 1977. She received her Juris Doctor from the New York University School of Law in 1981.
Vanessa Manzano currently resides in NY. She is born of first generation Filipino parents and learned to speak Filipino fluently at the age of 10. Vanessa graduated from Boston University's School of Public Health with a Master's degree in Public Health with concentration in International Health and also took classes at Bank Street College of Education in NYC that focused on linguistics and elementary school aged children. In 2005, Ms. Manzano moved to NY to assume the position of Executive Director of the Filipino American Human Services Inc. (FAHSI). With the help of her staff and volunteers, they were able to serve and improve the lives of Filipinos in NY through their programs. These included the Seniors Support Program, Womens Support Program, 9/11 Case Management program, Leading Youth to Finding Empowerment and Adult Conversational Tagalog classes. Ms. Manzano is now currently Director of Development, Foundation Relations at Columbia University Medical Center. Vanessa's genuine love and pride for her Filipino culture, its language and dance, the community and working with children ultimately let to establish The Filipino School of New York an New Jersey, which she did with the support of her family, friends and colleagues.
Nicole Ponseca began her career as an advertising executive for Saatchi and Saatchi Euro RSCG. Working on lifestyle brands including Oil of Olay and Coppertone. It was in her early days when Ponseca realized her undying passion for Filipino authentic cuisine. Since Nicole opened Maharlika in 2011, the Restaurant ground has made its imprint on NY's culinary scene as a Filipino trendsetter recognized by critics and top publications and remains a major player in NYC's dining scene. Ms. Ponseca has been invited to the White House by President Obama to represent leaders in the Fil-Am community, became a motivational speaker for young adults in the Fili-Am community. Ms. Ponseca also started the charity event "Evening in Manila" which raises funds for charities in the Philippines. She has also mainstreamed the humble Fili street food with the "Annual Balut Eating Contest and Lechon Roasting Day" during the Hester Street Fair in the summer. With the success of the Maharlika Filipino Moderno and the opening of Jeepney. Ms Ponseca continues to combine her professional background and cultural values to further push Fil cuisine to the forefront. She has been named as #6 in Zagat's 2014 Restaurant Power Player list.
Thank you Ms. Eleanore for this.