Almost anywhere in the world, the lessons learned from the financial debacle experience have more or less helped shape people's conservative spending  habits , especially on both luxury and non-luxury items. One affected area which may not be considered indispensable to some people is fashion and its related accessories. However, for fashion die-hards and enthusiasts, it would almost be unbearable not to be updated with the fresh trends taking into account the degree of influence fashion mags, runways and the who's who in fashion have on them. They would always find ways and means on how to stay on top of the craze come hell or high water!
Spring and summer seasons are the best times of the year to get out and enjoy frolicking under the sun, having fun with our family and friends. It is the time when we want to wear our best summery and breezy clothes and show some "skins" and feel good about ourselves regardless of age and body type. Basically, it is the clothes we pick and wear that would give us that confidence we need, as long as it is glam, trendy and stylish. Hey, hey, hey, you might say, but how can I have glam and fashionable clothes without spending thousands of green bucks and ruining my cash flow just to have a complete makeover of my wardrobe? Well, there is a solution to that. As I said in my previous blog, a real chic "fashionista" doesn't have to be an ardent fashion follower , there's no need to buy expensive clothes and accessories, instead make an effort to be a trendsetter- from professional to fun and cool look !
So, to be a trendsetter in a tough economy requires someone to be smart and creative. A genuine fashionista is the type of a person who at a snap of a finger, would be able to determine which outfit is appropriate. However, for those who are not as "savoir-faire" as the rest, there's no need to fret about it- as you can simply check
your  closet and examine which actually can be utilized and fitting for the season. For spring and summer time, you may take out and keep aside black ensemble and those with dull and dark colors and replace it with your existing brighter, bolder, hot, trendy yet cool outfit and accessories which lay still in your wardrobe.
The Budget-Friendly Tips – Fashion Must Haves
1.If you're a dressy person like me, you may opt to wear clothes with floral prints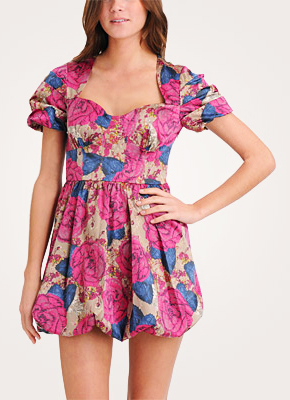 and some super cute accents such as ruffles, ribbons and bows . While 2010 fashion color is turquoise or in shades of blue, white and pink colors are still preferred by many. These colors are soothing to the eyes and would reflect an appearance of femininity, youthful innocence, fun and excitement! It doesn't have be a pure white or an all pink outfit, it could be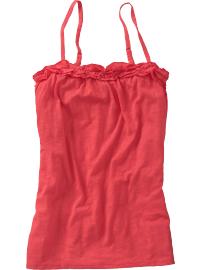 matched with a printed or plain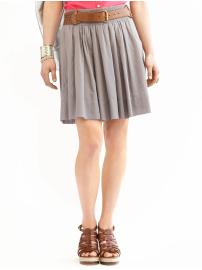 stuff. I am sure you have some beautiful sun dresses, blouses or skirts in pastel colors of blue, pink, white, yellow and some earthy tones with some cute accents and a touch of flair . A nautical striped outfit may also
be good to look at. 

All theseform part of my existing favorites
and wishlists!
A spaghetti sundress with a style on hemline,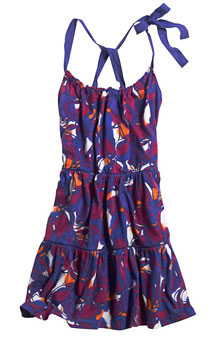 an off-shoulder printed dress for office wear and night out ,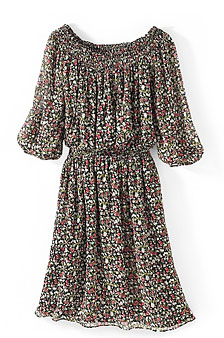 a chiffon printed blouse with dainty ruffles,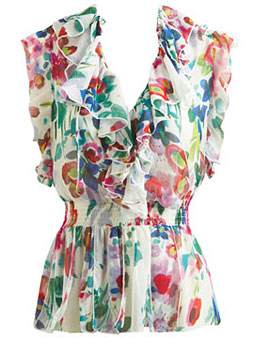 a weekender dress for worship/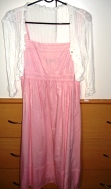 mall window shopping 🙂 , a tank top  and a jogging pants for a lighter moment!
2.For simpler yet modern style,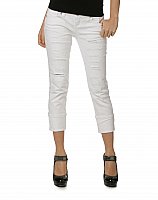 capris , workwear denim, ripped jeans, and wide leg trousers which you may find in your closet are cool substitutes. They can be used during these times of year. Yes, you've heard it right, ripped, torn and peek-a-boo denim shorts and jeans are still in – from last year's success in the streets- it is here once again!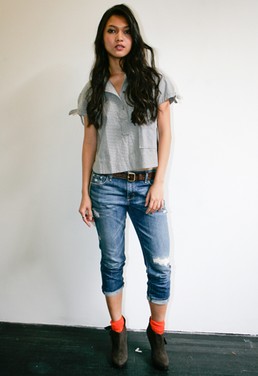 If you don't have it and wouldn't want to spend your hard-earned money for ripped jeans but would have wanted to explore wearing it, you can actually cut up your old jeans and let the fringes from the cut hang.
3.A cardigan for a charming spring/summer dress for office wear or a boyfriend jacket and blazer with sleeves rolled up is super cool, especially for spring and mild summer night.
4.Check your shoe rack and select one pair for party or social networking gatherings, a pair of work heels, sneakers  or tennis shoes for a brisk walk,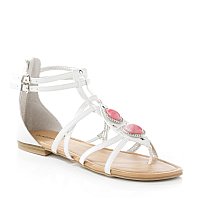 sandals/wedges/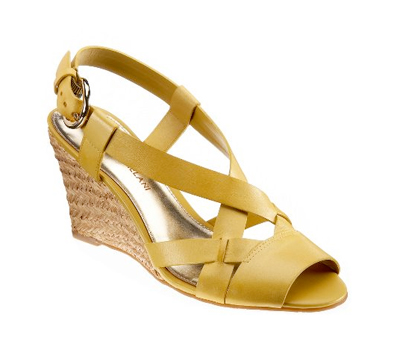 clogs  and flip flops, that would fit and match most of your clothes. Spring and summer times are just perfect to show off your wow shapely legs and nice neat toes!
5.As an alternative to your large and  oversized  bags,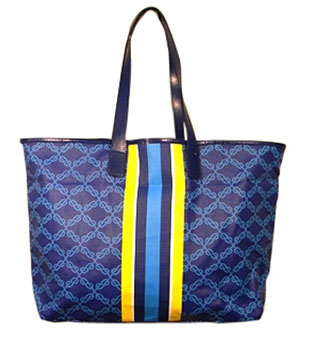 you may wish to use your smaller, bright colored trendy bags still hanging in your closet.
6.Sunglasses  , scarves,  hats or umbrellas are definitely necessary, especially during warm summer days.
7.A swimsuit or any related beach apparel for your beach, cruise or weekend getaway.
8.Aside from a pearl stud earrings, you can wear chandelier earrings this year. It is okay to wear chandelier earrings if you're comfortable with it as it adds glamour to formal (night out) or informal outfits (e.g. white shirt and jeans) . However, if you're not used to wearing earrings , it is also fine – a simple natural clean look perfectly fits for summer time.
9.Go to your nearest beauty parlor and have your hair styled. This is an inexpensive way to stay in fashion!
With all these tips in mind, you're now set to go out and show that individuality of yours. I am sure you will have a brighter, cooler, and trendy spring and summer time! So, what are you waiting for? Come on, flaunt it! 🙂