Last February, I received a communication from the Apostolate requesting me to guide and lead the singing during the mass. Wow, what an effortless request! But little did I know that it was a form of spiritual leadership accompanied by a critical responsibility brought upon on my shoulder.
What could I say? How could I say no to the call for help for God's glory? I simply responded in affirmative, and everything started there! I thought that was one way of touching me to be of help to others in the humblest way I can, which incidentally is one of my advocacies in life.
As a brief backgrounder, my choir experience dates back during my childhood days. My kids buddies and I used to sing as members of the choir and it can be attributed to our love for any kind of music, from pop to slow rock and …..the liturgical music! I learned my church songs, first from my parents, then from my older siblings, my music teachers who were nuns in our school and from the church where I used to go. But my love for music didn't stop there, it evolved and it  continued up to these days. 
As I prayed for God's guidance, the present responsibility wasn't a burden at all.  Humility aside,  I can sing with a little knowledge of playing the guitar. At first, some generous people from the other parish showed up to help in the singing, then the second time with only one.  But  with God's blessings, the group blossomed with more or less 15 people volunteering to be part of the team. In all honesty, I felt a sense of relief and the assurance from someone up above that everything will be all right! I realized that the success of the choir does not depend on the person leading it, her talents, her skills but on God's keeping control of it. And that makes it amazing!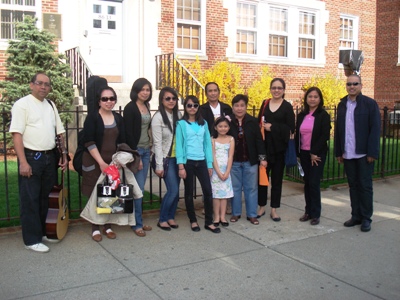 Our kick-off meeting/rehearsal really went well, probably because the members are musically gifted in their own rights but I believe they were also commissioned to be part of the new choir. We started our rehearsal with a prayer and some kid stuffs as part of our agenda. And thereafter the rehearsal began. I say, Amen. Welcome and congratulations to the new members! From one to 15 members – a combination of the young at hearts and the real young ones with the youngest member, Erynn who is only 6 years old! That makes it even more amazing!
As a sense of duty, I felt the need to share series of thoughts and knowledge gained since childhood days from previous choir masters who were experts and considered "maestros" in the field of music. Most probably some of the members may know this already but for purposes of reminding everyone, I would like to share the first batch of the said thoughts with my colleagues and other "newbies" out there who are contemplating to organize one and/or simply be a member of a choir.
"Singing is Praying Twice"
I have heard this over and over again as far as church choir singing is concerned. According to some, the said saying was first coined by St. Augustine. However, based on an article published in the Catholic online forum, it was clarified that what St. Augustine wrote simply means that when you praise God thru songs, then something happens to the song of the praiser" because of love. Part of the excerpts of the original translation cited: …"he who sings praise, is not only singing, but also loving Him whom he is singing about/to/for….".
In any case, the message being conveyed by St. Augustine only implies that whether or not you are a choir member, one should deliver the songs very well, with respect, with love and with the purity of intentions. When the choir sings together with the congregation, it is like everybody is praying together. In fact, Jesus said this that "…when two or three are gathered together in my name, there am I in the midst of them".
 There are also times that when you sing during the mass and the song coincidentally fit well to how you feel at that particular time, like if you feel frustrated, bothered, broken hearted, abandoned or in any state of emotion, you tend to cry out to the Lord thru the songs and then you realize that your eyes start to have "clouds" and even to the extent that the tears start to flow down on your cheeks. But after that , you feel some kind of an unexplainable relief, giving you a new hope and a form of healing from the Almighty. Have you experienced this before? Believe me, it happened to me not only once but many times!
Relevance of a Choir
In view of the importance of the choir in the liturgy, it may be imperative that the choir practice very well the songs to be sung so they would be confident during the actual singing presentation. Similarly, a well rehearsed choir would be able to impart the message of the song and eventually be able to shape and pave the way for the true faith of those who worship.
Choir members absolutely doesn't have to be professional singers….anyone who has the knack, committed and is willing to volunteer their time and talent for the love of God, are the perfect members you could get. What an awesome gift from God! All the best to all of us!
Note: The next topic that I would be blogging on would pertain to the benefits of being in a choir, the choir decorum and some vocalization tips (minus the piano)!
If you feel the article was useful , please feel free to comment and it would be greatly appreciated. If you don't have comments, it is okay I do understand. But just the same, it would still be good to hear your thoughts , pleasant or unpleasant!