I just mentioned Oscar de la Renta as one of the fashion giants in my previous blog (Elegance Never Goes Out of Style) and suddenly 6 days later news about his death (due to cancer after 82 years of staying on  earth) were flashed on TV. The fashion world mourned for the demise of one of its legendary fashion icons who was famous for his lavish haute couture creations worn by a diverse group of distinguished women (from Jacqueline Kennedy, Hillary Clinton to Michelle Obama) and Hollywood celebrities.
Frankly, I don't own a dress designed by Mr. de la Renta simply because I am just a lowly person, hence couldn't afford his dresses, but I have always admired all of his creations. I would love to have one for sure; but just looking at some of them is just enough for me. The choice of colors, designs, garments and embellishments were excellent, truly only a master  and one who have passion to dress up the way women should be could have done it!
What is interesting about him is his being a true gentleman who rose up from the ranks and with a little help from the right people in the industry having been trained by the equally artful masterful ideas and hands of Balenciaga, Lanvin and Elizabeth Arden. From then on, he made his own career and clothes line utilizing his own exquisite taste, classy and elegant designs. In his heydays, he ventured himself into philanthropy and served as board members of various charitable organizations both in the United States and Dominican Republic, his home country. He had served as president of the Council of Fashion Designers of America in the 70s and in the 90s, a rewarding achievement for and a dream of every fashion designer.
Mr. de la Renta was able to impart to both his colleagues and newbies in the fashion industry his useful tips and thoughts on fashion and the business itself. Here are some of my favorites:
"Elegance is a discipline of life."
"It's not about what you wear, but about how you live your life"
"A runway is spectacle. It's only fashion when a woman puts it on. Being well dressed hasn't much to do with having good clothes. It's a question of good balance and good common sense."
"The qualities I most admire in women are confidence and kindness."
"Fashion is about dressing according to what's fashionable. Style is more about being yourself."
"Work hard. Believe in yourself. It's not the publicity that sells the clothes, it's the woman"
"Walk like you have three men walking behind you."   ( Oh oooh, let's look at the picture below….3 men are happily giggling while with a beautiful and influential lady wearing an Oscar de la Renta creation!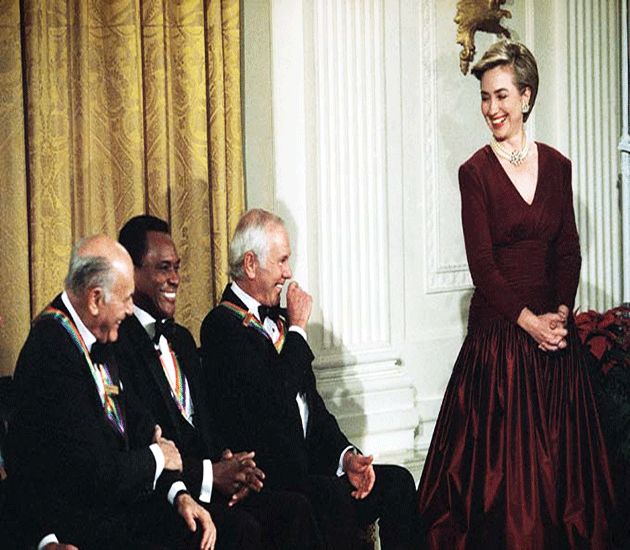 Aren't all of these quotes inspiring?
As indicated in his bio, Oscar de la Renta had raised adopted children with his two wives: the first wife who served as editor-in-chief of French Vogue died because of lingering illness and the second one is a philanthropist and a socialite.
Normally, we see professional and ambitious men in corporate boardrooms showing off their technical skills and all but with Mr. de la Renta, he was busy sharing his talent and design skills in an industry where men would hesitate to venture into, although not to the majority average people in the world but for the few elite individuals. While he may not have been able to offer his creations  to everyone, Mr. de la Renta definitely brought beauty to this world. He was an epitome of class and grace, in short he was what we may call "elegance personified"!
Truly, he was not just the Sultan (as often described) but the King of Suave!  May you rest in peace!
Thanks to Vogue for sharing some of these photos below: