Palm Sunday: A Prelude To Judas' Kiss of Betrayal
Today is Palm Sunday,  and  Christians (Catholics and non-Catholics) throughout the globe commemorate the triumphant entry of Jesus and his followers into the gates of Jerusalem. According to Scriptures, Jesus rode on a donkey with His disciples and large crowd preceding Him. While on their way, they cheered and cried out : "Hosanna to the Son of David; Blessed is He who comes in the name of the Lord; Hosanna in the highest". The crowd carried palm branches, waving them with enthusiasm and inviting other people's attention which lead them to ask, Who is this? And the crowd replied: "This is Jesus the prophet, from Nazareth in Galilee".
While the triumphant entrance was a day of exuberance;  people rejoicing and with good intentions as symbolized by the palm branches, however, things did not end well. There were some people in power who grabbed the opportunity of the event to discuss on how to design the trap , maneuver the arrest, trial and ultimately Jesus death on the cross. These people disliked Jesus because He performed miracles and they were also jealous of Him because He drew people's attention, having a charismatic human nature.
The said powerful people who were considered "honorable" during those times were thirsting for revenge against Jesus. They have exercised influence on Judas Iscariot, one of Jesus' Apostles, to identify and squeal them His whereabouts. It was in the Garden of Gethsemani when Judas kissed on Jesus' cheeks in exchange for a few pieces of silver.
The said kiss of Judas turned out to be very tragic. Judas himself, committed suicide and failed to ask for God's forgiveness. And the said kiss signaled the start of the Holy Week, leading to the Road to Calvary, the passion and death of Jesus.
In every aspect of our present lives,  we have to be ready to face the ugly reality that there is a potential Judas in each of us, even among best friends.   Many Judases are liberally scattered  in every corners of the world; betrayals are being undertaken/encountered left and right,  especially in politics and even in so-called ideal and happy families.  Some commit the same mistakes and the tragic acts as Judas' did while others don't realize who the Judases are  in their lives.  Indeed, history has a way of repeating itself…and that's sad.
As we go to our respective churches today, we may be reminded that everything happened because of God's love for mankind. He will always be there to forgive us of our inequities and selfishness because of His desire for everyone  to be with Him in Paradise!  Thus, let's offer instead the kind of hugs and kisses of St. Peter's than that of Judas'!
Have a blessed and meaningful Holy Week to one and all!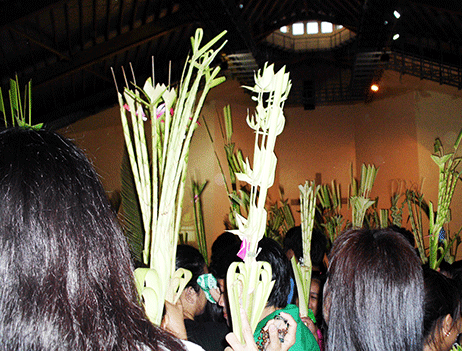 Useful Tip: Have your palm branches sprinkled by holy water while the priest walked up and down the aisle (or depending on one's tradition) and place the blessed palm on your door or in any sacred place of your home. Palm branches that have been blessed are considered sacramentals. These palm branches can be given back to the church for use on Ash Wednesday. Note that the church authorities create ashes by burning the palm branches.
p.s. cto for featured photo. thanks!