While Tangerines and Oranges are in demand these days because of the nutrients (e.g. Vitamin C) they feed our bodily systems, and  they boost our stamina and immunity particularly during winter season, their beautiful color is  likewise  the latest craze in town, particularly in fashion and design!

Officially recognized as the company to select the Color of the Year , Pantone Color Institute has chosen "Tangerine Tango" as the 2012 color of the year. As described by Pantone, Tangerine Tango is something deep orange or what they specifically call "spirited reddish-orange".

Preferably, I go for subdued pastel colors, girly-lady like type thing, but I can be fearless enough to try bolder colors such as orange. Actually, I like orange color per se, as it gives shine and brightness to the surroundings. Even in food, if I see something of the same color range, I am attracted to it!

My fondness for orange color is actually evident in myusefultips.com slide banner from fashion, sports and other categories (which by the way I  noticed this only now!).  Did you guys observe it as well? The use of such color was never planned, probably it was my subconscious mind leading the team and working at that time!

For fun's sake, I checked if I do actually have some things with orange color in my belongings. Voila! I found a red-orange (what Tangerine Tango is all about) silk pleated haltered JAIPUR blouse dress which I got last year  from Burlington Factory, a Laura Rowe necklace with matching earrings and bracelet, a winter knitted hat, an Asian wooden/rubber back massager, a bath sponge, headband, crayons and marker, and a plastic cosmetic case from Clinique. Wow! Do I have all these?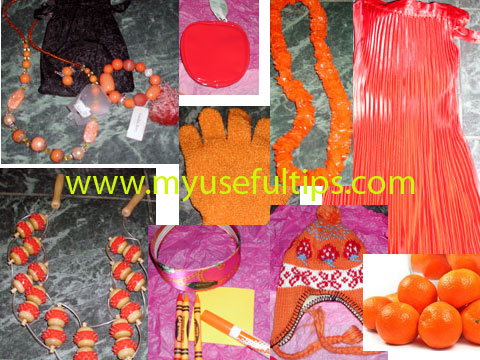 I know most of us wouldn't dare to wear orange in this winter time of year. We normally see people in subways, streets and work places, wearing clothes in  black, gray, or blue shades of color.  Maybe, we can set these colors aside for now.  How about making  a bolder statement for the sake of recognizing orange as the color of the year!  Let's do it by showing something with orange color like an orange scarf, a bonnet or hat , belt, tie, or any accessories. It only would not add color to our lives, but it would also give us a shot of vigor and push to what we want to accomplish!

Come on guys, I dare you now!  Let's flaunt the orange hue!