UN Zeroing In On Zero Targets For HIV/AIDS : HELLO?
Last week, the United Nations General Assembly (GA) convened a high-level meeting to discuss critical issues, particularly on how to address the global problem on HIV and AIDS.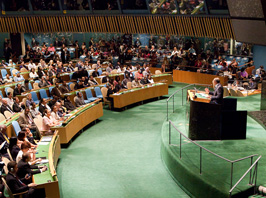 As mentioned in earlier blog article under MDG (Millenium Development Goals) category, one of the targets (Target #6) ) included in the UN-MDG is to combat HIV-AIDS by halting and reversing the spread of the disease by 2015 via adoption of various strategies. The said meeting lasted for three days and Government leaders and its representatives in attendance reaffirmed previous commitments and came up with resolutions which shall serve as guidelines of each country to respond to the various issues confronting the subject matter within the next five years or so. Worth noting to mention is the statement made by GA's President Joseph Deiss during a press conference, encouraging world leaders to implement certain strategies that would result in "zero new infections, zero discrimination and zero AIDS-related deaths." This is quite a brave call challenging the world leaders to exert more efforts to completely eradicate the spread of the disease. Sure, I share and echo the said worthy calls because it's beneficial for mankind, not a tinge of doubt about it.
In an article posted last year about MDG, when it was first time introduced  in my blog site, it was noted that the MDGoals were rather time bound and pretty ambitious, definitely not achievable within the specified  timetable. (For MDG No.6, it would be interesting to monitor on a regular basis, on whether or not the same is on track as far as targets are concerned).
Let's zero in on the 3 zero targets!  Below are my brief initial thoughts on this matter:
1. Zer0 new infections:
UNAIDS data for the past 10 years showed that about 182 countries made significant strides on rate reduction of new HIV infections, reduction of transmission from mother to child, and the expansion of treatment access. The said report, however, mentioned that despite the said considerable achievements, five people are still infected on daily basis, even including children, where most infected individuals are unable to access the necessary drugs or medicines  to save and prevent them from infecting others.
UN Secretary-General Ban Ki Moon, in one of the hearings with civil  society groups, urged the latter to assist them to achieve the said MDG target.He recommended courses of action that are "cost effective, efficient and sustainable", within which all stakeholders are requested to implement and do their part for this meaningful endeavor, an HIV-free world. The said action plan includes, among others, the promotion of health, respect of human rights and the dignity of each person, especially women. While the  said plans are pretty straightforward and easy to comprehend, the implementation of which, on the contrary, is tedious and requires a lot of explaining to do.
UN's recommendations are generally laudable but there are some decent conservatives who may disagree to this.  A target of zero infection may be too bold to say for now. The UN, World Bank (WB) and other advocacy groups have gone all the way and spent billions of dollars giving assistance and educating everyone about the disease.  The WB alone for instance has already provided about $4.5 billion for HIV prevention and treatment.  But have there been zero infections to date?  None that we've heard of. There could have been improvements but the fact is there have also been additional HIV cases.  There must be something wrong somewhere in the analysis.   So, how about an assistance instead towards formation of right values and attitudes of the people towards sex? Was this part of the agenda?

I'm not an expert, but if the advocacy will focus only on "safe sex"  and prevention methods,  I think the problem won't be resolved and there  will always be tragic incidents of this nature.   A massive information dissemination and stern warnings about the DREADFUL effects of the disease should be actively undertaken  especially in rural communities and urban areas/metropolis where adolescents are perceived to be more sexually active and susceptible to making spur-of-the-moment decisions. You see, when a person learns that engaging in sexual activities without any caution can jeopardize one's health and may result in death at the end of the day, he or she will think twice before engaging in the  said activity especially if he or she is not sure if one of them is infected with the disease.  But if the advocacy is merely to give options to people about safe sex (e.g. use of condoms and other contraceptives),  couples who are sexually active may just go on with their sex lives without having second thoughts.
Based on reports and studies,  the use of safe sex methods (e.g. condoms, etc.) is neither effective nor a guarantee in reducing transmission of HIV/AIDS from an infected person to an uninfected clean individual even if  UN HIV/AIDS experts  have undertaken thorough studies on the benefits of the use of safe sex related procedures.
How about encouraging the so-called "abstinence" or restraint from sexual activity?  Is that possible for couples and partners? Maybe yes for some and a BIG No for others. But this could be a natural means of curbing and preventing HIV and AIDS.  Abstinence from sex, loyalty to husbands and wives or partners and one-man-woman or one-woman-man relationship could still be the best way to get rid of this infection, much more to achieve a zero HIV infection. UN and other multilateral agencies could probably use a chunk of their coffers by extending financing aid to poor countries to strengthen health systems through proper education (not necessarily on safe sex), thus improving the health condition of the people. Better still, UN and other large institutions could probably  promote the conservatives' view of abstinence only and other natural methods.  Seriously, come to think of it, hmm!
2. Zer0 Discrimination:
As enunciated earlier, this blog site echoes UN's call for human rights for victims of HIV and AIDS. There is no reason not to, especially with the sad condition the victims are facing. These people are not only physically in pain, but they're also emotionally and spiritually in need of someone to understand and sympathize their situation.
However, even with all the technical assistance and ad campaigns on this matter from large institutions, e.g. tapping prominent figures and celebrities to promote their programs, what is happening in the real world is different. Perhaps it could be the lack of proper education and right information on the subject. In a specific workplace, for instance, when someone tells you that Mr./Ms. so and so are infected with the virus, the natural reaction would be to pity the person but at the same time to start to be cautious in dealing with the concerned individual. Most, if not all, of the people would start distancing themselves from the infected person because of fear that he or she might get it, unless he or she is a close friend or a member of the family. This is how serious and dreadful not only the disease is but the attitude of some of the people as well. This is in fact the reality regardless of the country's economic status, in contrast to UN statements that HIV/AIDS is no longer a "shunned disease".
To avoid the said problem on discrimination, a solid and concrete tri-media campaign, including search engines (Bing, Yahoo,Google, etc.)  and social networks (Facebook, Twitter, etc.) should be done repeatedly and aggressively, on a weekly basis, to educate the people about the facts and figures of HIV/AIDS. Rather than publishing or twitting on non-sensible matters and engaging in gossips, search engines and social networks should play an active role in this meaningful endeavor. As such, people especially the younger generations would then be able to learn about the ins and outs of the deadly virus, including the attitude on how to treat an infected person. We all  know  that ignorance can actually lead to social stigma in people with disabilities, much more those with HIV and AIDS. If these people are being feared, for sure they'll feel inferior and would hide from people due to shame, embarrassment and even to the extent of harassment.  Thus, some of them fail to be given an opportunity for an immediate treatment and counseling. As such, it is never correct to put a bad impression on an infected person as it has already been proven that doing so would only serve as barrier to HIV treatment.
3. Zer0 Related Deaths:
 This is a worthy move to save lives of people already afflicted of the disease as well as to keep everyone from facing further similar deaths.  
UNAIDS data to date estimates that about 60 million people have been infected by HIV and close to 25 million people have been killed related to the disease. At present, majority of people living with the virus are found in Sub-Saharan Africa, followed by South and South-East Asia. Note that North America is only in the third place and fourth is occupied by Latin America. This is quite alarming for the South East Asia to place second.
The lack of adequate education and preventive measures, coupled with low public awareness especially in developing economies contributed to the increase of afflicted individuals worldwide. Education on the subject should really start at home. Parents who heads the family,  which serves as the command center of a child's social life, including value formation, should take the responsibility in molding and guiding their children to the right path so they will not commit mistakes in the long run. The respective Governments on its part, should take the initiative and  be conscientious enough in doing their job and commitments by enacting related laws and regulations and not just wait for and rely on grants and aids from international communities in order to implement the same.
HIV and AIDS remains a global challenge, not only for the Governments but also for all of us. We have to be informed and take part of our own accord, we don't have to wait to be recognized and compensated for what we do, contribute something in our own little way so as to achieve the set goals, ambitious as they are, but good for all of us , for our world to live in, for a clean, uninfected, HIV-free environment.
Feel free to say your piece, it would be greatly appreciated.