Embracing August's Abundance With Gratitude and Love
Before this month of August ends, My Useful Tips.com (MUTC) would like to express its gratefulness to God for His love and mercy and to those who have served as His instruments and showed their love and appreciation to the people behind this blog, particularly for this month of August. As we all know, all of us are called to be God's instruments to lend a helping hand to all people, particularly those in need, to express love to others by giving them even just the feeling of being truly loved through various means, (e.g., gift-giving or sending warm greetings during special occasions), to do something kind and to be nice to people, to bond or talk to people whom we have not seen for a long time, and a lot of other good things, among others.
Life on earth has its ups and downs, regardless of month and period of the year. It just happens, some unexpectedly while some are planned. However, this month of August has brought us reasons to be grateful to God and to the people (especially to our relatives and friends) who have served as His instruments – from the small joys of each day to the meaningful gifts. This month has been filled with so much graces to thank for, specifically for the gift of life. Among family members, there were about 8 (Nanay, chaki, Riss, Noreen, Joy, Jeco, Deanne and Hazel) of them who have celebrated their birthdays this month, including one of the pioneers of MUTC. I am now convinced that August has become synonymous with abundance – a month where God's blessings abound, just like a haven for bountiful blessings? One can't help but believe so, as it unfolds like a treasure of goodness of God. As such, the hearts of the people behind MUTC brim with gratitude for the countless graces bestowed upon them throughout this month.
Indeed, life is a journey worth celebrating and is meant to be shared. Each step counts, and every day adds to our story. During this month, we had the chance to share laughs and to enjoy moments with our loved ones that make life more special. Some of them went out of their way to help others, and make their and others' birthdays memorable. They travelled long hours not noticing the effects of jet lag on their well being, even patiently bringing with them or sending some souvenirs and gifts, including birthday money for the people they love. A friend of ours, despite her busy schedule, travelled from one place to another just to send some gifts to us from abroad. These blessings may be in the form of tangible tokens but accompanying them are the sincere and true wishes that hold the power to uplift our spirits. Thanks a lot our dear kith and kins for your gifts (wow, amazing there were dollar bills and thousands of pesos!!!) and your warm greetings, to our dear sisters for the birthday cake and all your pasalubongs, and not to mention the gifts coming from our dear sister friend based in Long Island, NYC.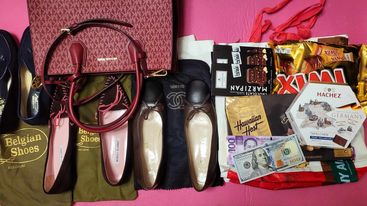 Receiving these thoughtful gifts, we are reminded of the people who continuously brighten our lives. So, we embrace these moments with thanks and a positive outlook, sharing our happiness with those around us in return. Let's not forget as well that with these blessings, we are reminded that life is not just about taking blessings seriously, but also taking ourselves lightly and sharing these blessings to others.
As August encourages us to look back on our journey and ahead to what's coming – looking forward to reaping the rewards of our efforts. We continue to wish and pray to God for MUTC's admins, to those people who have remembered us, even those who have not, and for all of us, that all of our coming days, years, and decades be both sunny and rainy, and that our joys be as abundant as the blessings during this month of August. So, let's embrace these moments with gratitude and enthusiasm, sharing our joy and love with others along the way. May our dear Lord God bless us all and always.