Inspirations from "Milagros": A Memorial Tribute To A Dearest Departed Sister and A Faithful Friend/Co-Worker
Milagros is a Spanish word for "Miracles". This was the name given to her by our parents when she was baptized as a Catholic at a beautiful church named after St. Michael the Archangel. Mimi, her nickname, was among the brood of 8 (originally 9 but the eldest passed away when she was still a baby) in the family. It would be great to know why our parents named her after the word "Miracles". There must be a reason to it. Just my hunch, could it be that she was named after the Our Lady of the Miraculous Medal ("Medalia Milagrosa" in Spanish) because my Mom was a devotee of Our Lady? Or, after one of our Aunts who was also her namesake? However, since our parents are no longer with us, it may be difficult to know the exact reason why they chose to name her Milagros.
It is not uncommon for parents to choose names for their children based on their religious beliefs or traditions as well as connections and personal preferences. Whatever the reason may be, Milagros is a beautiful and meaningful name that carries the connotation of miracles, which is a reminder of hope and faith.
Before proceeding to the first part of this blog (note there are 2 parts of this blog article), MUTC would like to request for your prayers, at least a decade of the Holy Rosary or rather a short prayer, for the eternal repose of the soul of our dear sister. Incidentally, today (17th February) is the 1st day of the Novena for her 40th day after death. Eternal rest grant unto her, O Lord. And let perpetual light shine upon her. May she rest in peace. Amen.
Part I
I consciously did not deliver a eulogy when asked to render one during the final wake. It was difficult to come to terms with the fact that our dear sister had passed away. I thought paying tribute to her at that very moment may not do justice to the beauty deep inside her when she was still alive, or words may escape me when describing her and the good things she did due to the sad emotions which engulfed me at that time. Few nights before her passing, we were still fervently praying for God's mercy and compassion for her swift recovery, sadly however she had given up. We were helpless and so we lifted up everything to God while the doctors were trying to revive her. It was probably the best time for her to leave us for good, and be with God in His Kingdom forever.
I would like to remember my dear sister (I call her ManaMimi as a sign of respect and endearment, the rest of the siblings prefer to call her "Ate") during her young professional days. ManaMimi obtained a dual undergraduate degree course (with distinction for some semesters): Bachelor of Arts (major in English) and Bachelor of Science in Commerce. While working at the General Milling Corporation (with the Uytengsus), she entered and completed her Bachelor of Laws. Because of her willingness, hard work and determination, she had to look for job opportunities in Manila, a city where she was not familiar with. Fortunately, she was recommended by one of her professors in the University to a Court of Appeals (CA) Justice friend and got the job. After that, she transferred to Sandiganbayan at the Office of Justice Regino Hermosisima, Jr. (who became an Associate Justice of the Supreme Court and her Ninong in her wedding) and eventually landed at the Office of the Ombudsman during the time of Ombudsman Aniano Disierto, as one of her Assistants and became close to her like a family. When Ombudsman Disierto's term ended, she joined the Research Team of the office where she remained a hardworking and painstaking public servant. Her work duties primarily involves research and training, more on the policy side, including among others, the determination of the causes of inefficiency, red tape, mismanagement, fraud, and corruption in Government (taking into account also the best practices in other countries) and to make recommendations for their elimination and the observance of high standards of ethics and efficiency.
In her stint at the Ombudsman, she was proclaimed twice or thrice as one of the Outstanding Employees/Officers where she received accolades, a token of gift and an appreciation from the Agency. It was in this Office, likewise, that she had to study further and enrolled at the U.P. Diliman for a graduate program, Master of Public Administration (MPA). However, she was not able to complete the same due to workloads in the Office, and for her to have enough time to focus more on domestic chores being a new Mom to her only son, Winston.
During the wake, one of my older sisters, Dory, (who used to be with a government agency) mentioned about a certain piece of advice from ManaMimi for her to avoid illegal acts and not to engage in any corruption activities with a strict warning that if she does and should problems arise, she would definitely not meddle. Mana Mimi was perfectionist at work (she was not perfect of course in other areas, she had flaws as well) and did things carefully. Her integrity as a public servant was beyond reproach. Thus, it was incumbent on her part to remind and caution us, particularly those working in Government holding "juicy" positions, not to ever entertain any of these kinds of activities because she knew and had witnessed for herself, the agony and pain experienced by those government officials who had undertaken illegal activities – found guilty and convicted on corruption related charges.
ManaMimi was a very devoted sister, kind and generous not only to her family, but also to other people. This was affirmed by those who delivered their tributes during the wake. I recall whenever I go for official travels abroad, especially when the country of destination's in the frigid zone (during winter months), she would be there to offer and help me look for the proper attire, and on other things needed for short term courses or for meetings and seminars. During our family reunions, especially Christmas time, New Year and other special occasions, she would spearhead the planning and preparations for it and would remind me to think and suggest what to do, and to bring necessary decors and ornaments (e.g. hats, etc.) to make the celebration more vibrant and joyful. Our future Christmas reunions wouldn't feel complete without the presence of our dear ManaMimi. Our exchange gifts wouldn't be the same. Normally, she would always bring fruits (pomelo, JUMBO apples and the like), or even a small pack of Jasmine brown rice for everyone apart from other presents.
Mana Mimi actively participated in Church activities and was one of the lectors in their parish. She voluntarily and consistently pledged/donated to her parish Church, on a monthly basis, apart from those being given during Sunday and ordinary days. One priest friend of ManaMimi who officiated the Holy Mass, in one of the wakes, jokingly (an anecdote perhaps) informed us about her. He mentioned that she would always hand him money (regardless of the amount) after the mass. (Note: Well, ManaMimi, who had 2 Aunt-sisters and had the chance to stay in a convent with nuns during college days, knew that religious people would need financial assistance for their personal needs.) The priest further stated that whenever he sees Mana Mimi among the mass attendees, he joked that he made his homily much better and longer, so that he could receive more money from her!
She may not be physically present anymore but one thing is definite: ManaMimi will be in our hearts forever. Her inspirations will be remembered.
My husband and I would like to thank ManaMimi for being a loving and caring sister to both of us but more to everyone in the family. She was a caring wife, a doting Mom to his son, a loving sister, a generous person and a good follower of Christ. One time, she sent me a message. She told me to continue spreading the Good News via blogging or by being a contributor of a Filipino Catholic magazine. Likewise, she was one of my greatest supporters and motivators for blogging, and encouraged me to be passionate about it, regardless of whether anyone reacted or not. She was outspoken and always reminded me to continue our weekly online prayer gathering despite our far-flung locations. We will miss you so much, Mana Mimi, more than words can express. Although you are no longer with us in this life, your memories will live on forever in our hearts.
Our loving and generous God, we entrust to You in prayer and ask for Your loving care and protection for the soul of our dear sister, Mimi. Please bring her into your loving arms and grant her perpetual light, eternal peace and rest. Please hear our prayers dear Lord and provide her soul with your abundance of love. Amen. Eternal rest grant unto the soul of ManaMimi, O Lord. And let perpetual light shine upon her. May she rest in peace. Amen.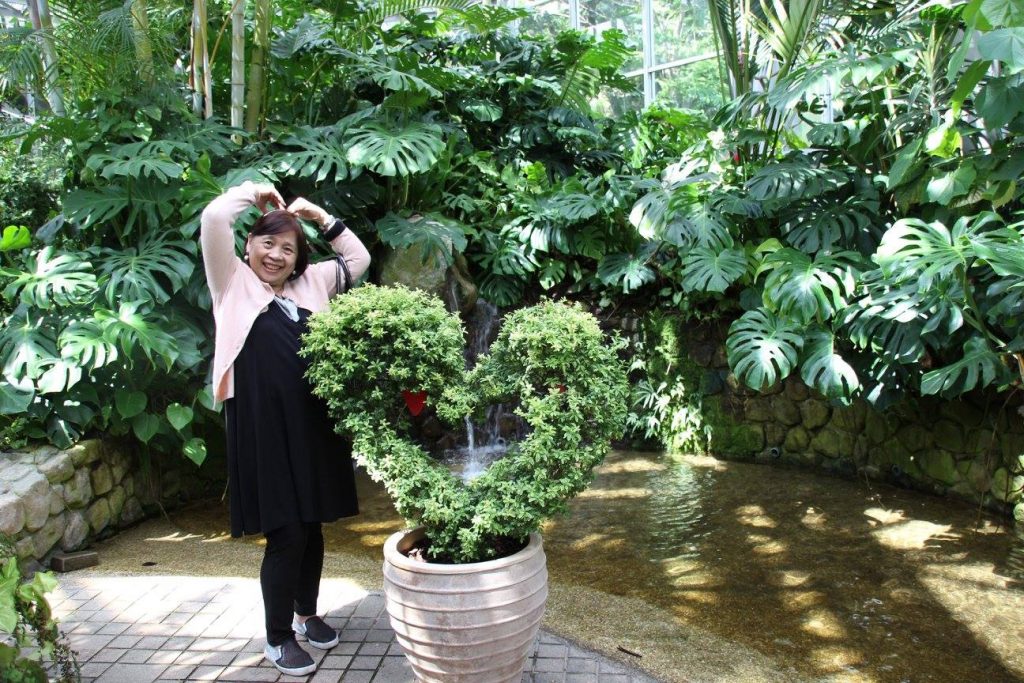 PART II
The following is a write-up, a copy of the Eulogy authored and delivered during the wake by Ms. Edna Urriza, an office colleague, primarily to pay respect and express admiration for our dear sister, Mimi. Thank you Ms. Edna for this beautiful write-up.
EULOGY FOR ATE MIMI ILUSTRE
When Winston asked me if I could deliver a eulogy for his Mom, I was hesitant at first but I decided not to pass up the chance to let everyone know who Ate Mimi is as a public servant, a co-worker and as a friend.
As a public servant and co-worker, Ate Mimi is very hardworking. She takes to heart all her assignments whether we are in the field for system studies or doing table reviews. No matter how enormous or difficult the task may be, she would be willing to take the responsibility. Moreover, she writes well her reports and she's also an eloquent speaker.
As a friend, Ate Mi is very thoughtful. She never fails to greet us on our birthdays and even gives a little something special during important occasions. After her retirement, she asked for a favor that I assist her in sending cakes as a gift to our officemates on their birthdays since she is not into online purchases and deliveries. For a time, we were able to do it for some of our friends at the start of the year until one day, the communication stopped for no apparent reason. We were wondering why our calls and messages were not From thereon, we knew something was wrong because that was so unusual of Ate Mimi. That was when she started getting sick without our knowledge.
Every July, we would always look forward to her birthday celebration in anticipation of her (and ours too) favorite buco pandan and puto pao from Nathaniel's aside from her other various "handa".
Ate Mimi is a very sincere person. She may appear to be soft spoken but she is one honest person who can tell you what she truly feels without sugar-coating or mincing her words. She would rant at times but take steps and exert efforts to assess things to fully understand the situation without judging other people.
Care and concern is inherent to Ate Mimi. Oftentimes she would ask how my mom is doing who is an 83 year-old stroke patient. She cheerfully sends her fruits every now and then.
One funny thing I do remember also about Ate Mimi is her concern that I find someone I can be with the rest of my life so I can grow old happy with a constant companion because I am single. Crazy though it seem because I believe that I am quite old for that, I know in my heart that she just wanted me to be happy now that I am in the autumn of my life.
Ate Mimi loves to dress up but would often times complain that she has not been to the beauty salon for a while for her manicure and pedicure because she has to attend to so many things even during weekends.
But as I look back, I remember how excited she was with our salon visit for make-up and hairdo in one of our formal office anniversary celebrations. Ate Mimi also loves watching plays, movies, ballet shows and the like. She would also fondly talk about her visits to her Tita Amor, her nun-aunt, and other convent sisters she knows.
Ate Mimi, thank you so much because your death made me examine my thoughts and my feelings on what I should value most in life. Yes, the death of a loved one often brings us to self-contemplation, an introspection on:
The Value of Time
Do not keep on postponing things. It would have been one of the biggest regret in my life if I did not push myself into visiting Ate Mimi on that day. I would not have been able to say my last goodbye. We need to realize and keep in mind that time is fleeting so fast.
The Value of Friendship and Relationship
Friendship creates bonding moments which makes life easier because your friends makes you sane, though at times, crazy too ha,ha,ha. Imagine a life where there's is no one beside you whom you can share your joys with, much more, your sorrows.
The Value of Making Happy Memories
The happy memories we have with Ate Mimi are her "pabaon" to us, as we will all keep those treasured memories in our hearts and minds as long as we live. And at the same time, I know that she has likewise held dearly close to her heart all our beautiful shared moments with her till her last breath.
That Friday, the 13th of January, will always be special to me. Though the number 13 is an unlucky number in Western superstition for some folks way back, that number is significant to me. Ate Mi and I have a 13-year gap in age but that was never an issue for us. That so-called "bad luck or cursed day") is an important day for me as it was the last time I saw her smiling…the day I said my last "I love you" and "goodbye" to her… that day which I will never forget for the rest of my life.
​Before I left her room that day, I apologized to her that I will not be able to hug her nor give her a kiss at that time for fear that we might be carriers of the virus. She nodded and understood so I just threw kisses her way through flying kisses. Then she reciprocated those kisses too by doing the same. We went home happy and hopeful that Friday afternoon.
Tonight, I know that you are here in our midst, Ate Mi. For one last time, please accept my flying kisses as a sign of my love for you. I love you, Ate Mimi! This is not goodbye but till we meet again.😘❤️